Early 2019 we started on a long journey of house renovations, after living in our house in Peterborough for some 25+ years, it was time for a full update. The house was built about 1908, an end of terrace two up two down with two stepped additions – a local classic design with the bathroom at the end of the house on the ground floor.
The initial plan was to replace the bathroom and kitchen, and also totally upgrade the very old heating system as we might as well burn gas outside as much good as the old boiler was doing.
But after chatting with my mate Gareth – he suggested that with our budget he could take-on the entire house, which was exciting and scary!
In the end we also got the loft sorted, extra insulation and raised flooring (and everything stripped out including THREE old water tanks for the old system). We also got the small front garden ripped out and totally sorted with a new fence and gate, and gravel letting the rain through rather than the old crumbling concrete.
It's technically not 100% completed -we are now over 50% through some lime repointing of the outer walls – but again that was another extra we added to the mix, so I'm going to celebrate the completion of the project with a bottle of champagne that I promised myself out of the budget we gave ourselves – probably the only chance I'll get to drink some of the best champers in the world 🙂
I tried (but failed) to remember to get before/during/after photos of the work – it was a huge undertaking. Many walls had plaster off and replaced, ceilings were stripped and in some cases re-boarded. Floors had the carpet removed and new laminate put down. The oak floor in the front room was sanded down and re-varnished. All walls/ceilings painted. New windows in some rooms… and every room had new blinds put up. So every inch of every room was re-done. Oh and we also had all new guttering/facias and the front of the house went from old tiles to bright white cladding.
It felt like a long slog – we were packing and moving room to room through the year. But it was well worth it!
In pretty much the order of the work…
Guttering/Cladding and new Lintel for Bedroom 1
While the guttering and cladding of the front of the house was happening, it was discovered that the reason for the plaster cracking in the bedroom was the bricks dropping over the window, due to no lintel being in place. The original small window must have been replaced many years ago (before our time), and they'd gone too close to the corner of the house really, and had just put a long bit of wood over the window – not enough support! Work had to stop, and builders had to make safe, adding two HEAVY concrete lintels into the two brick courses of the wall. They also added some cement to the terrible brickwork at the front of the house. It looked very dodgy and felt it at the time. The bedroom outer wall was stripped of all plaster and re-boarded afterwards. We left the painting and radiator off knowing the renovations would start straight afterward (ish).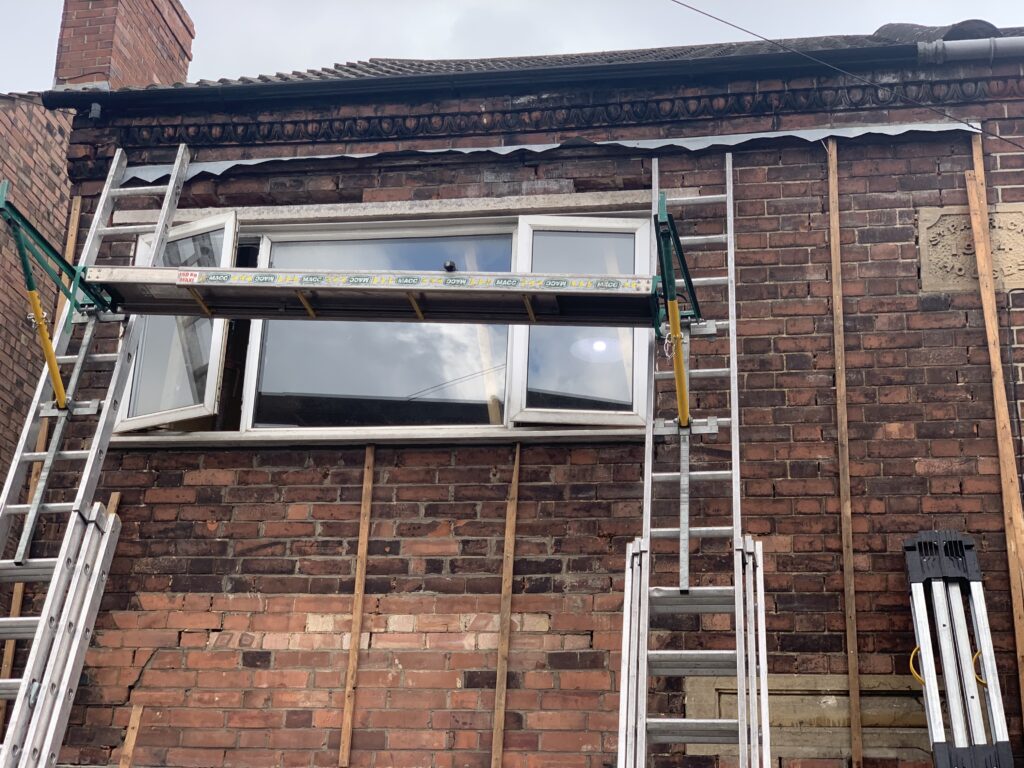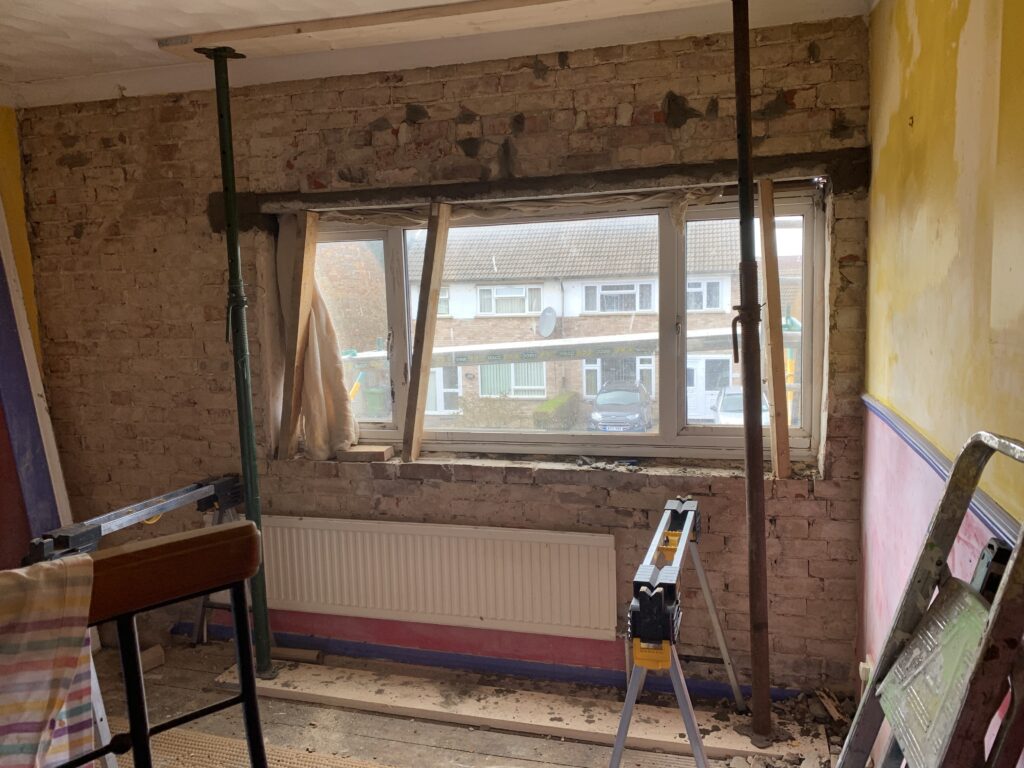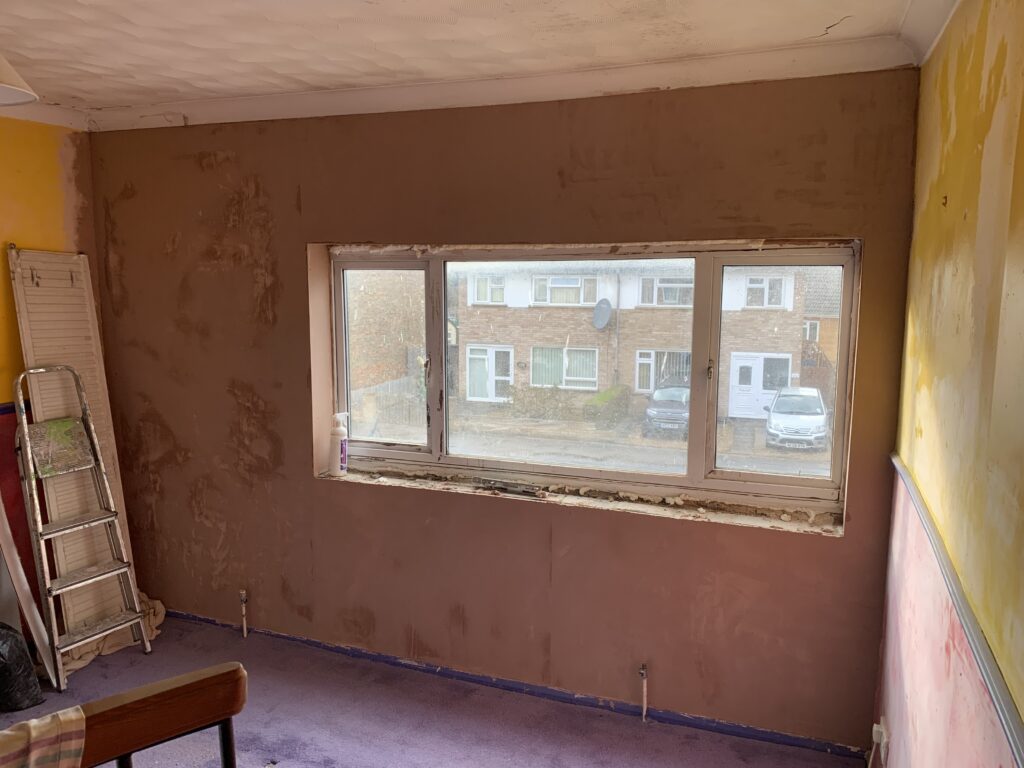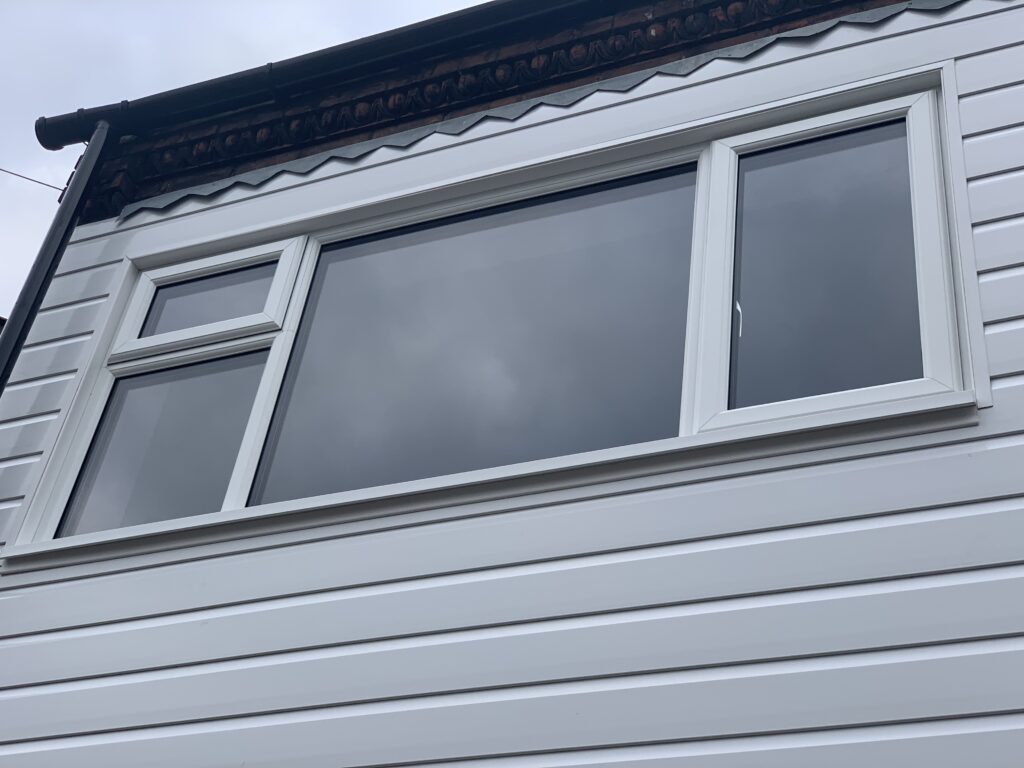 SMALL CRAFT ROOM (bedroom 3)
Once the guttering people and emergency building work was finished, Gareth could make a start on the internal work.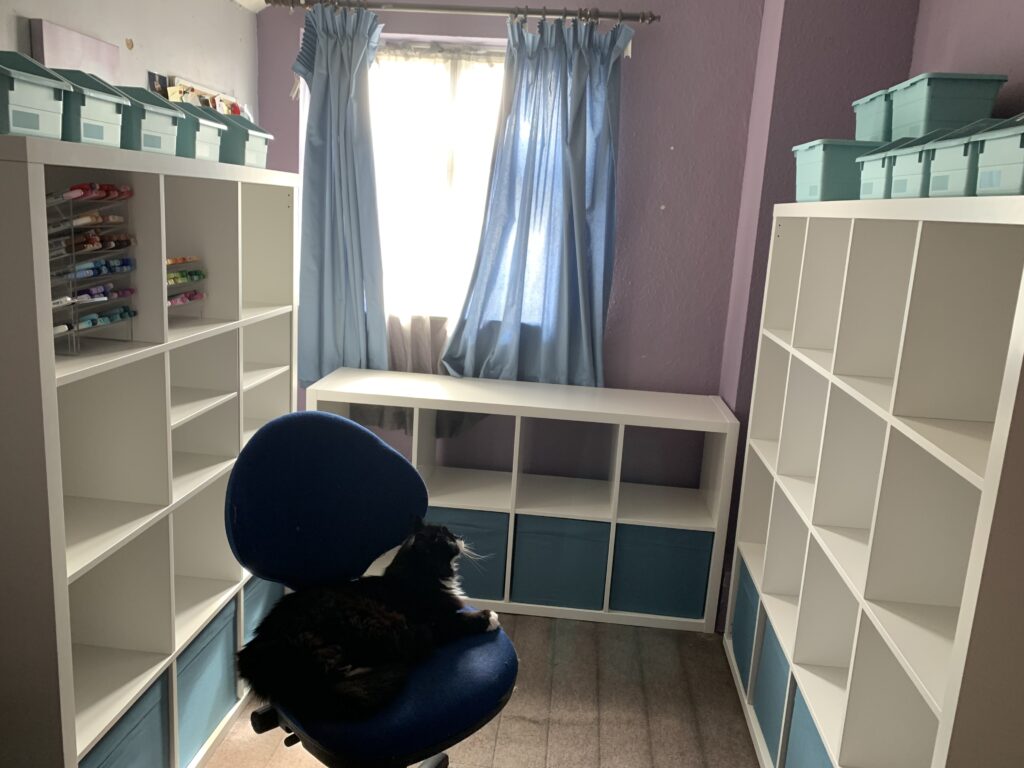 The small craft room like several rooms had really bad and sandy plaster, which had blown due to water outside from dodgy guttering. The window frame was rotting – not a room in good nick.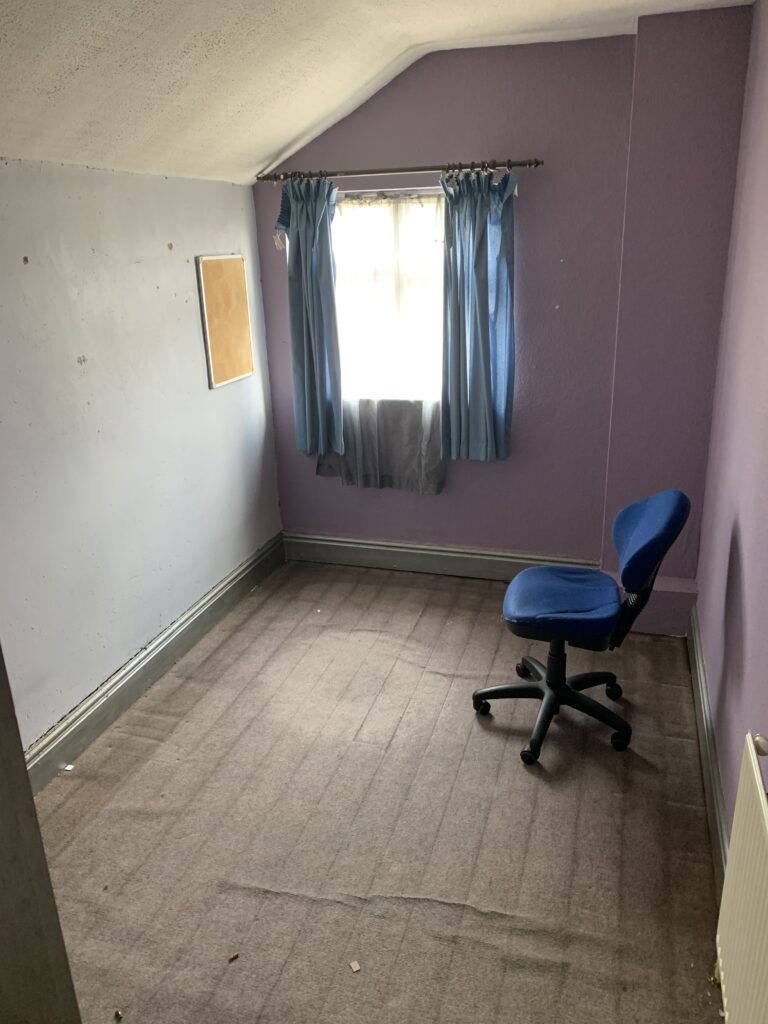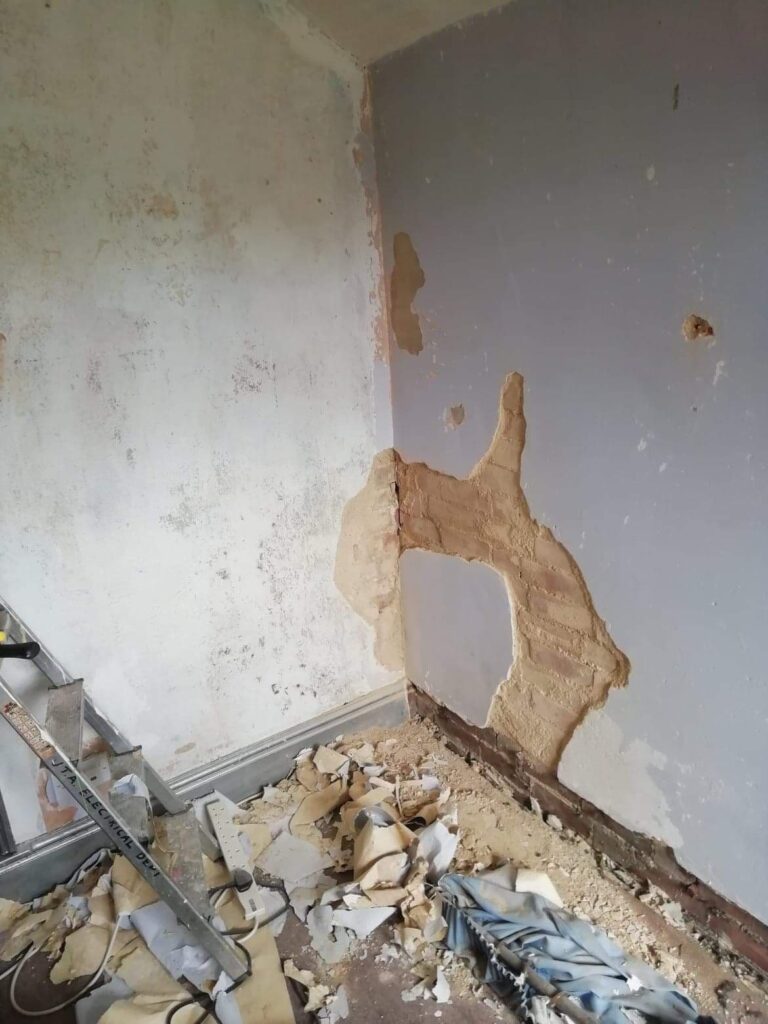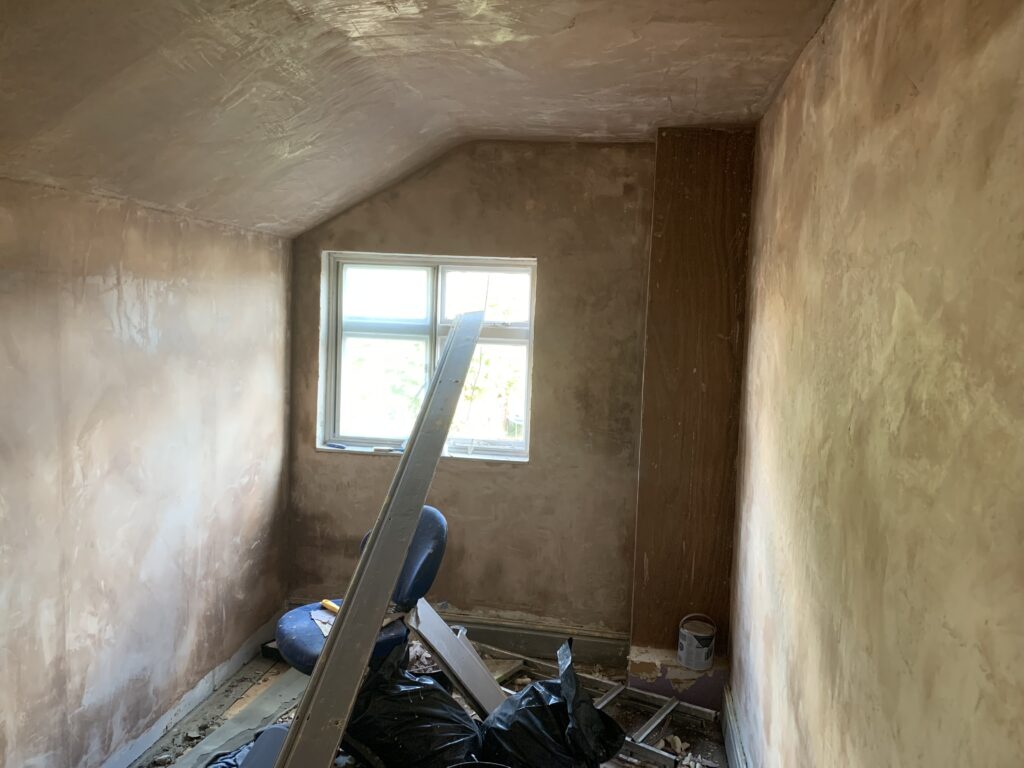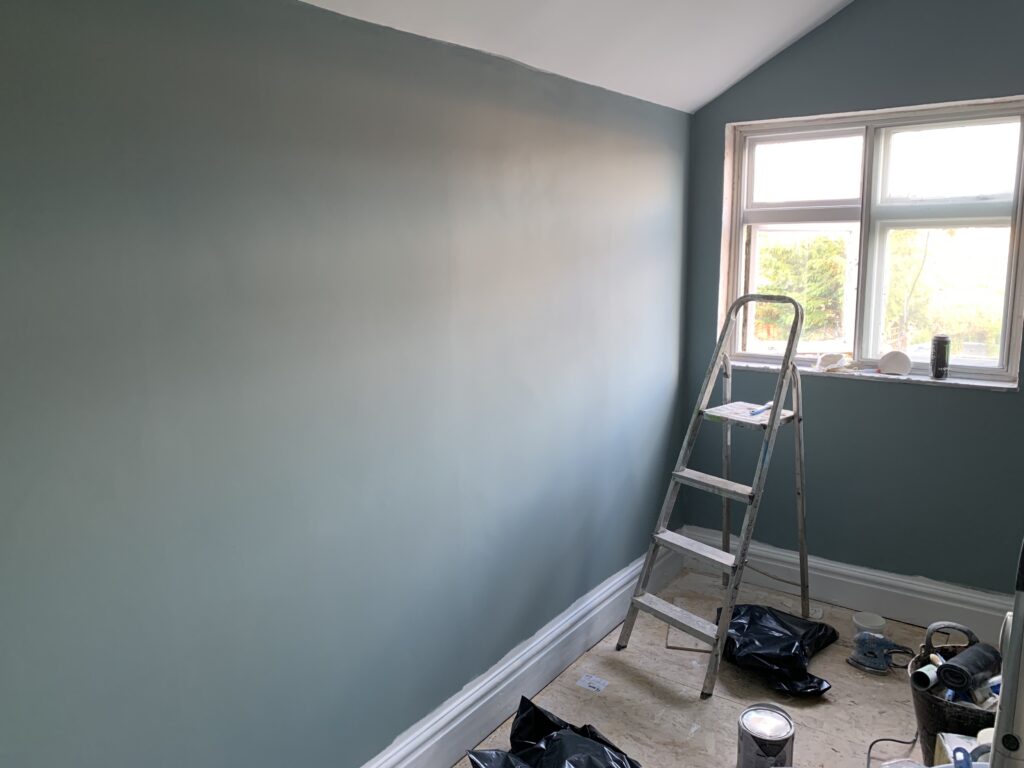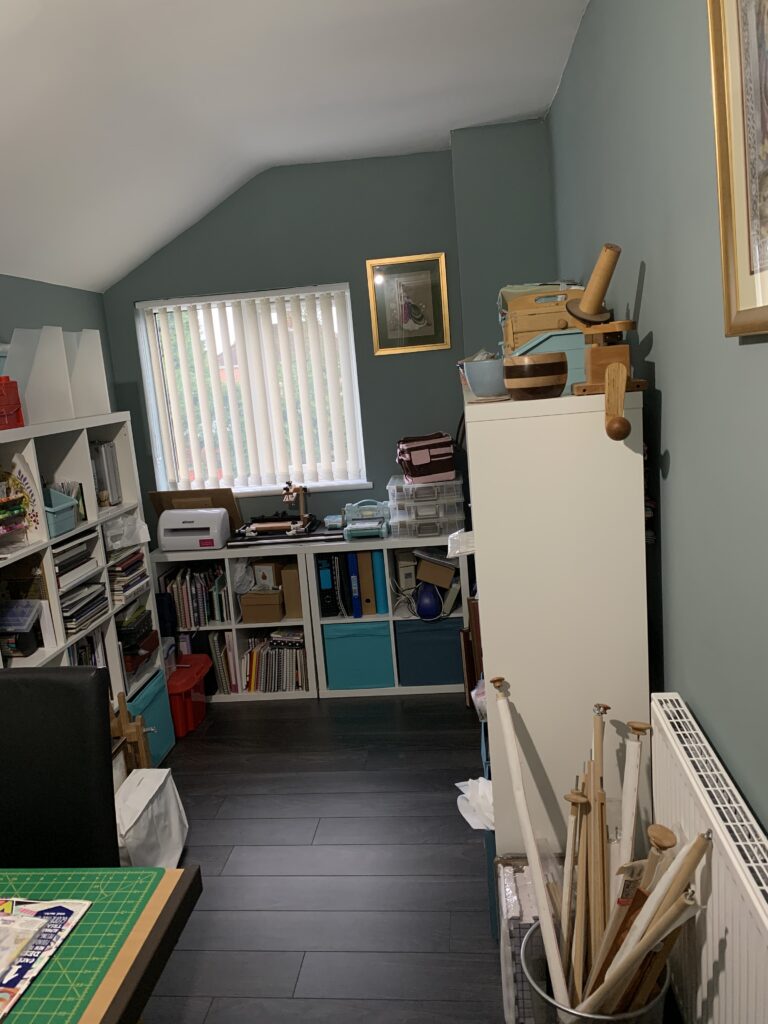 Larger Craft Room (bedroom 2)
The larger craft room (really the 2nd bedroom, which we've used as a library/storage room for years) again had problems with plaster on one wall. Another really really rotten window frame… terrible old carpet.. some signs of damp after the guttering issues.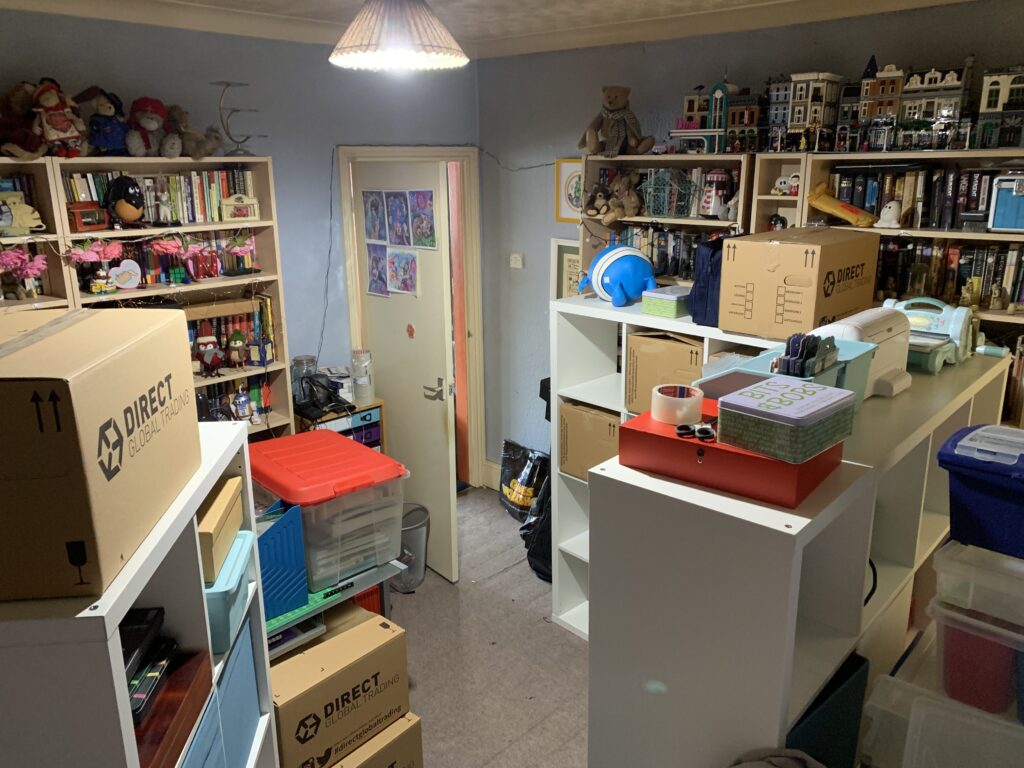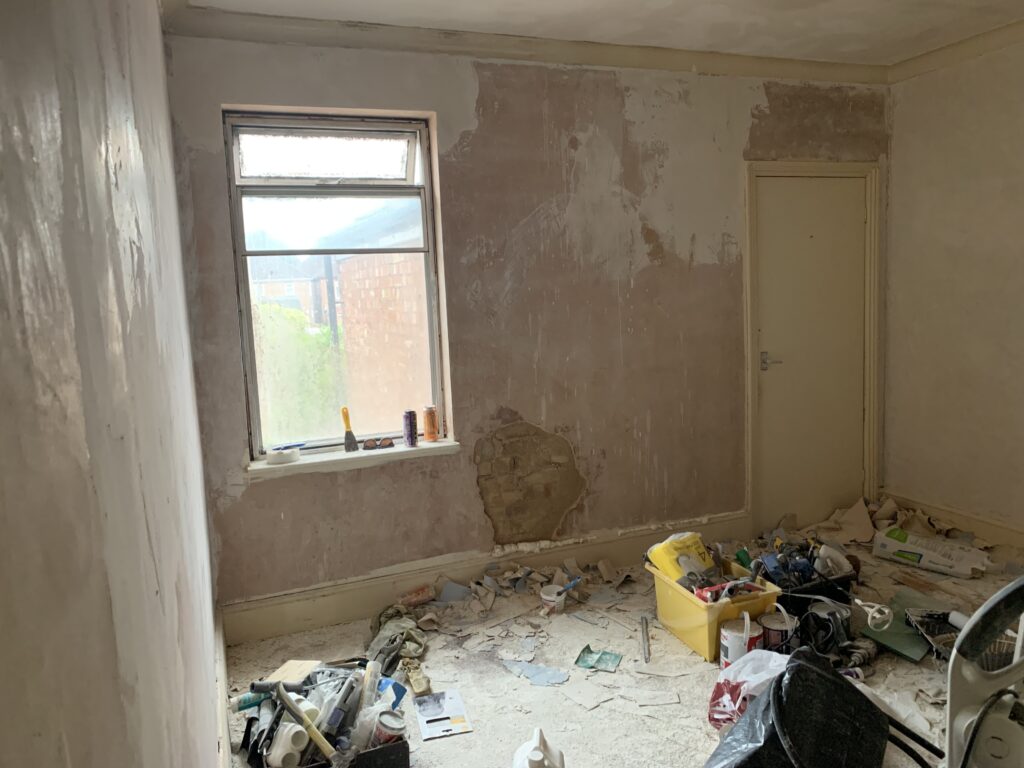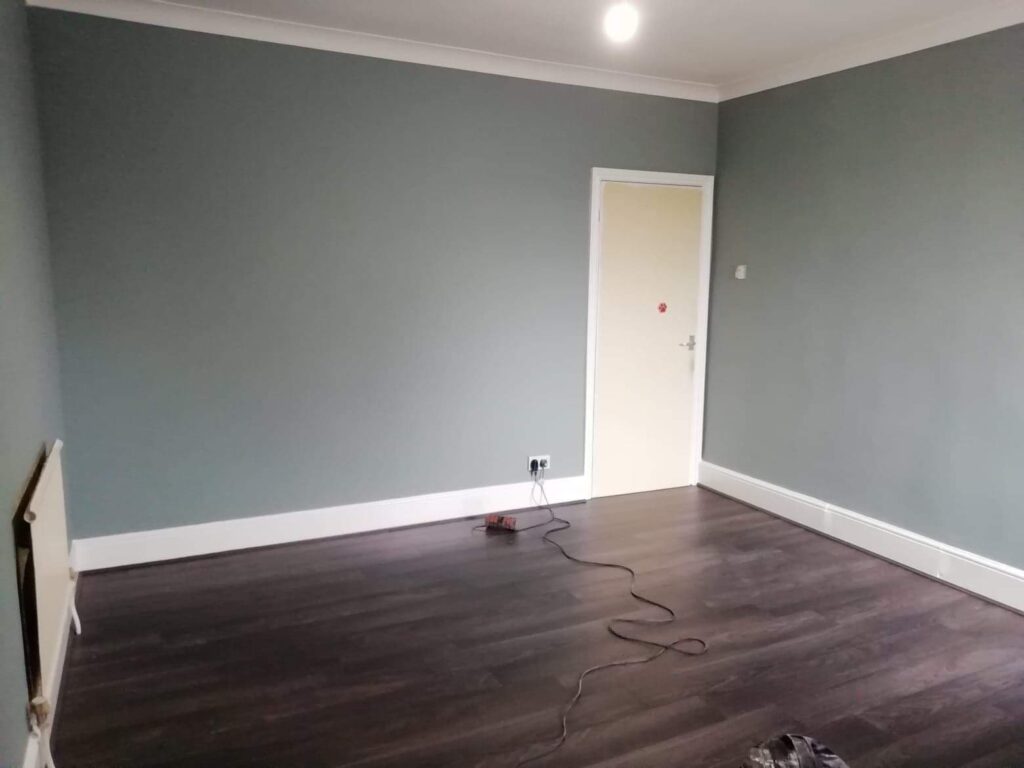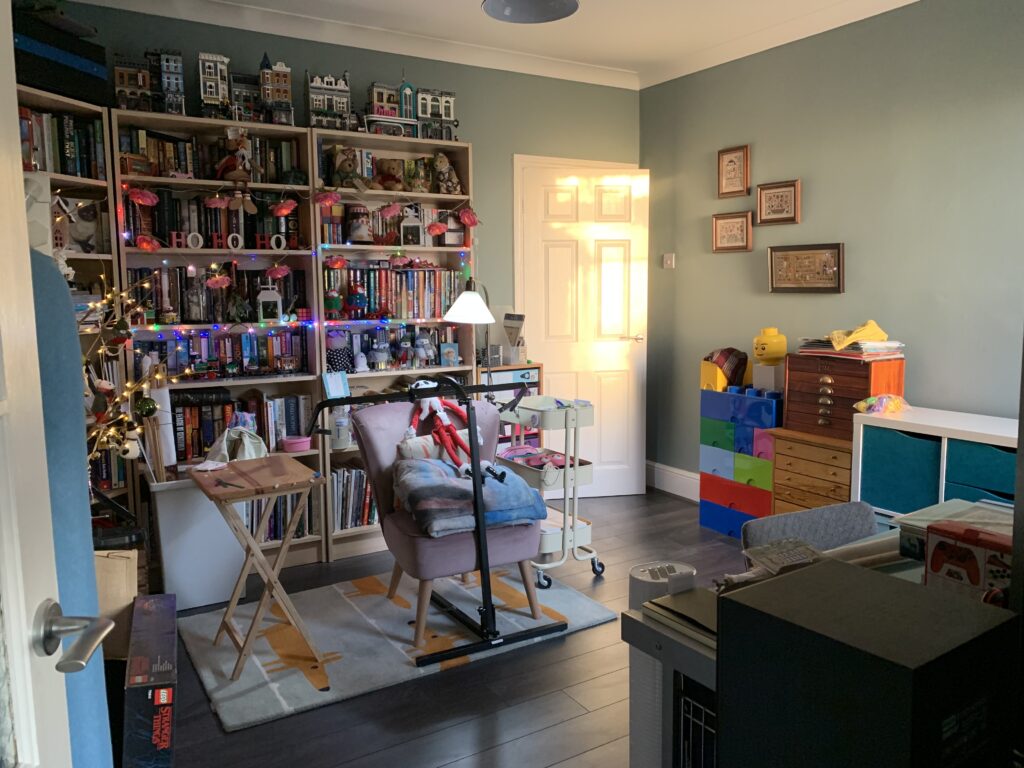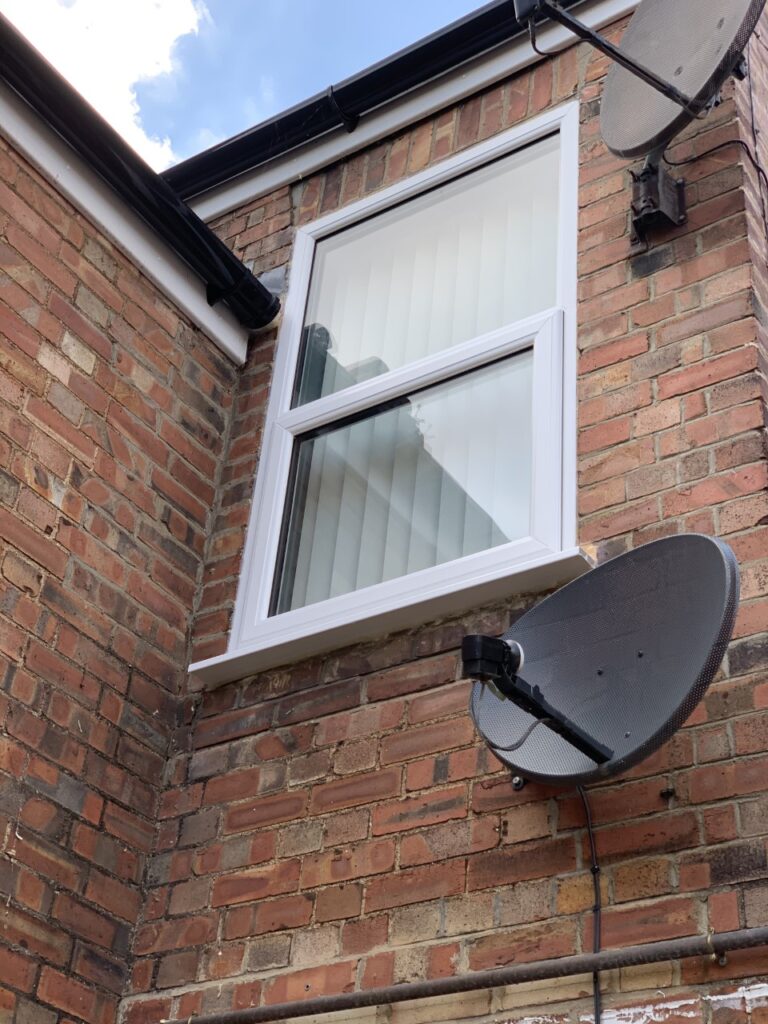 Bedroom round 2!
We left the new plasterboard wall unpainted with no radiator until Gareth could work on the room. The ceiling turned out to be a real pain in this room – it was the original lath and plaster job, and wasn't wanting to stay put.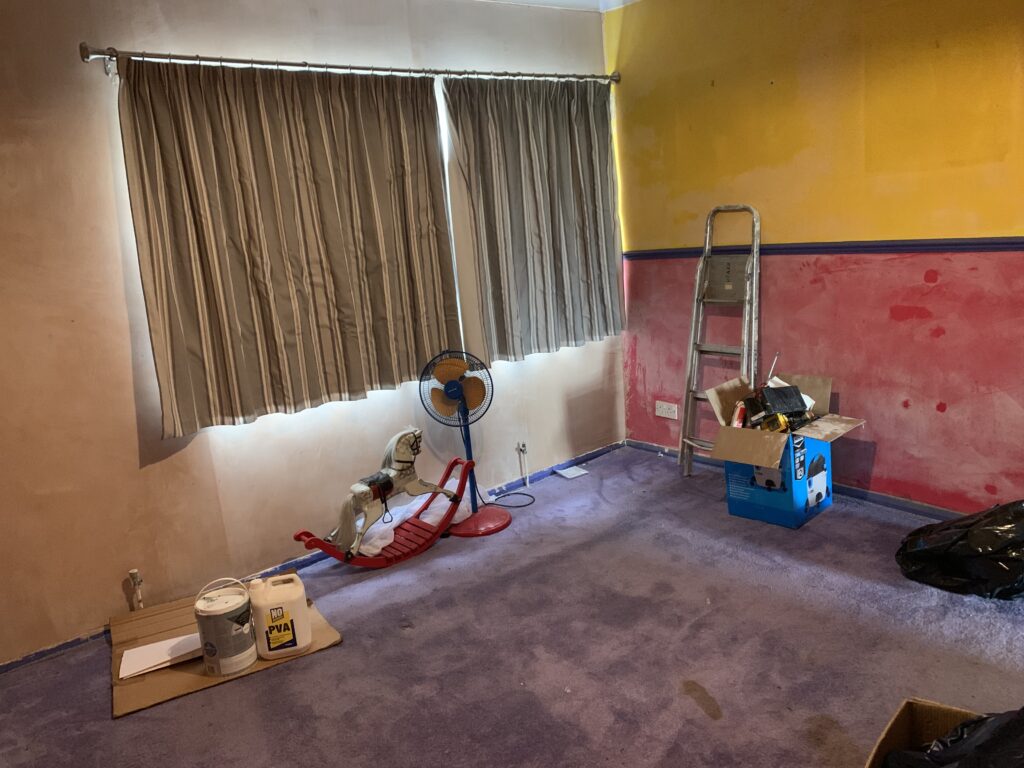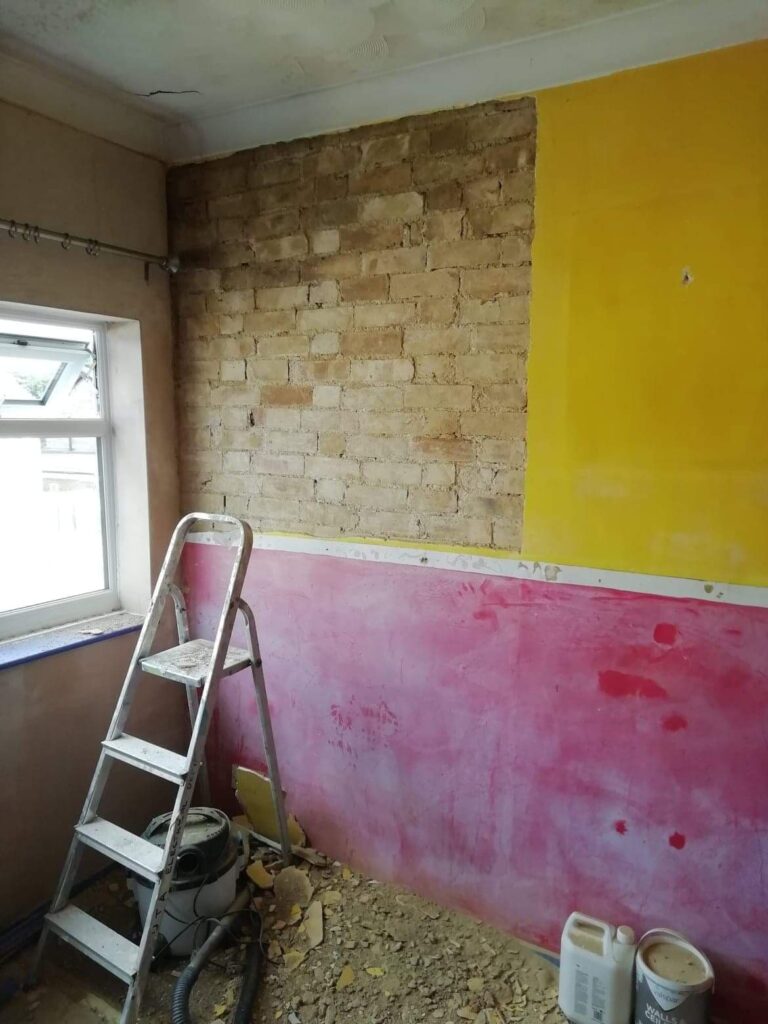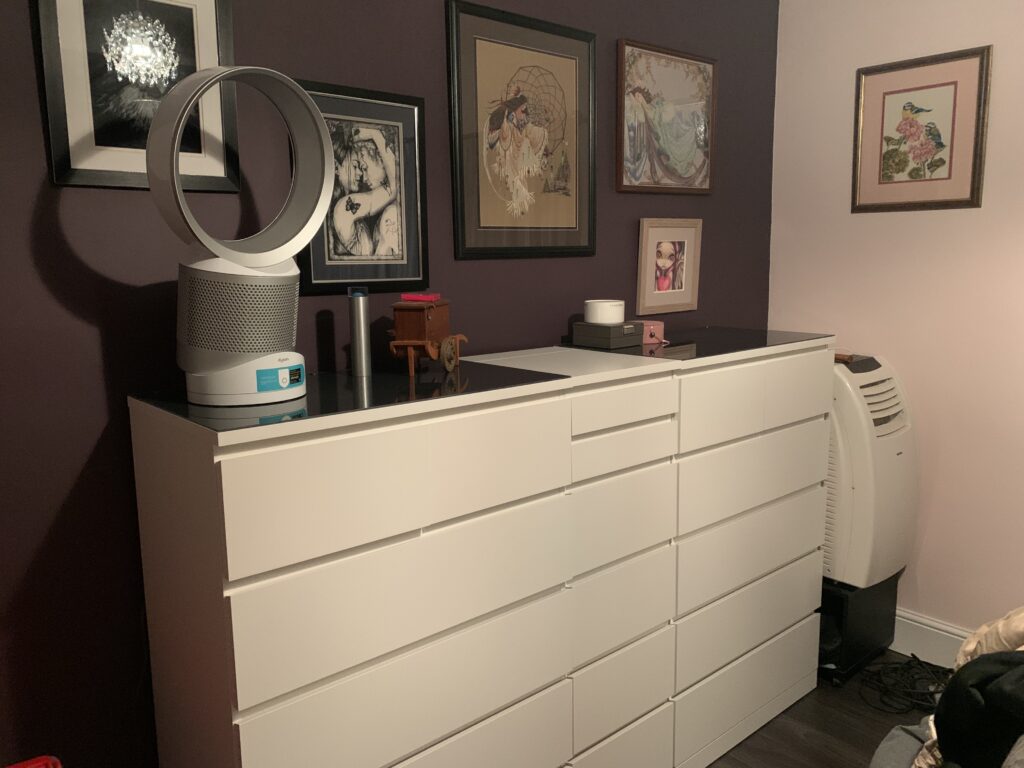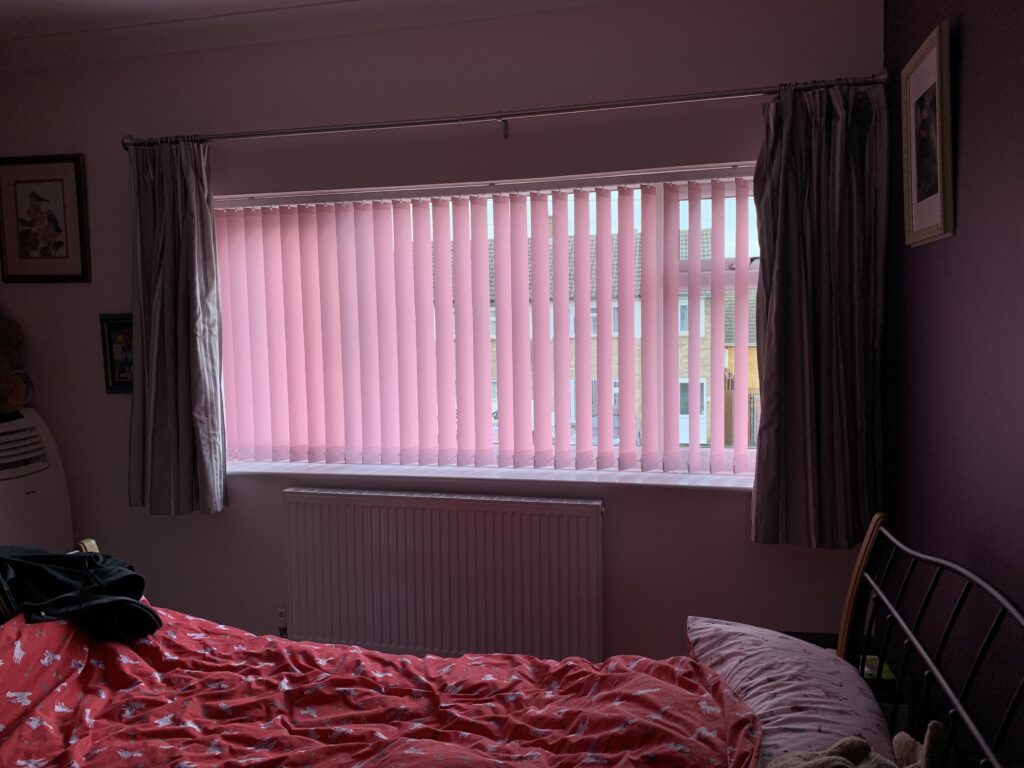 Landing and Stairs
A boring area, but a huge amount of wall to be sanded down and painted (it was covered in horrible thick artex). The stairs are open wood slats. It was a bit slippery and dangerous if we are honest. Gareth painted them white and added grippy fabric mats. The old wood handrail was also replaced with a chrome one. It was all painted much lighter too, with a new window and blind. We lost time here due to the fact there's loads of wall area and it was rubbish to get too – very high on one side.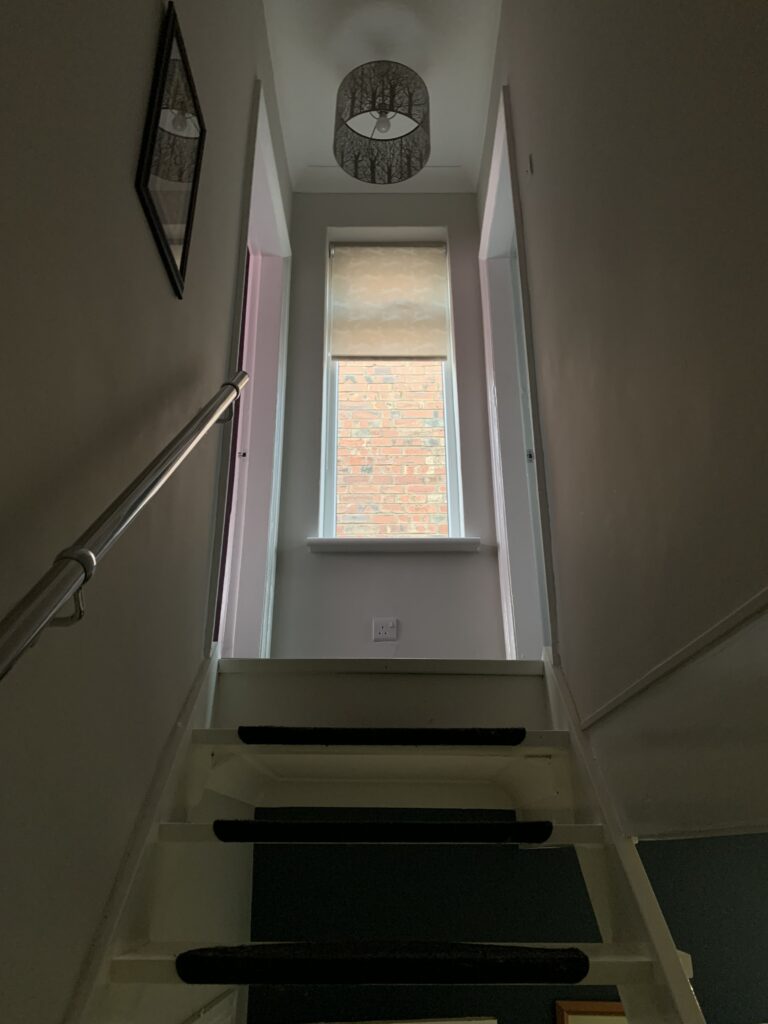 Dining room (Games room)
Once down the open plan stairs, the dining room (which we use now as a work-from-home office and games room) was next. Carpet up and laminate down, walls fixed up, everything painted.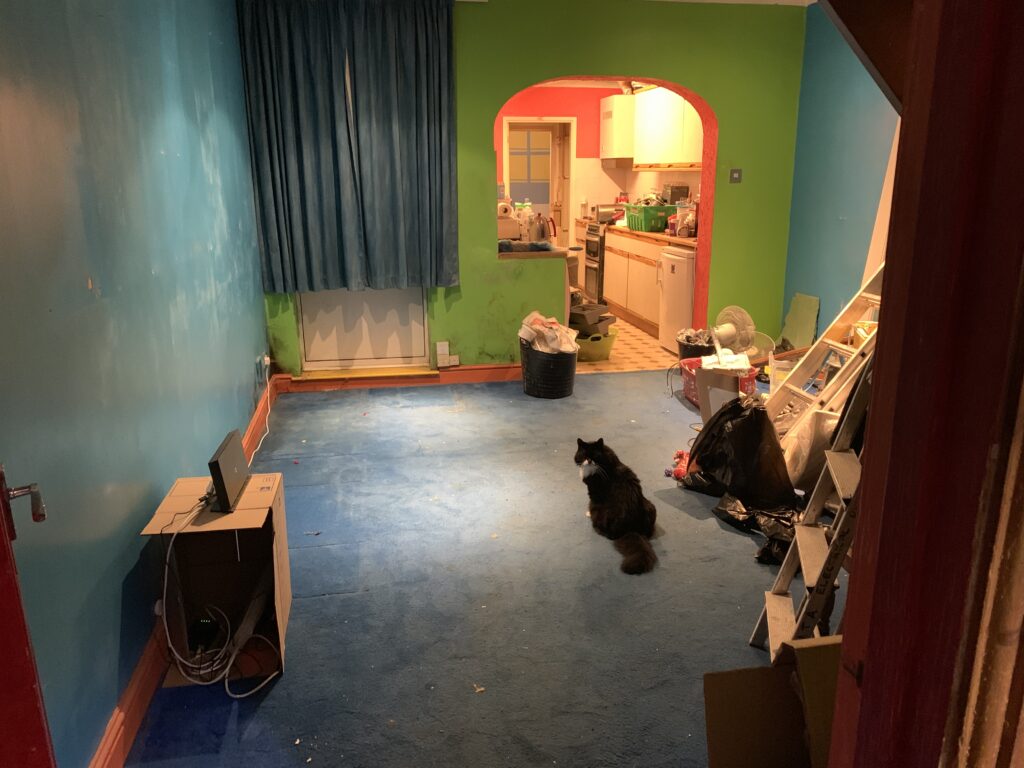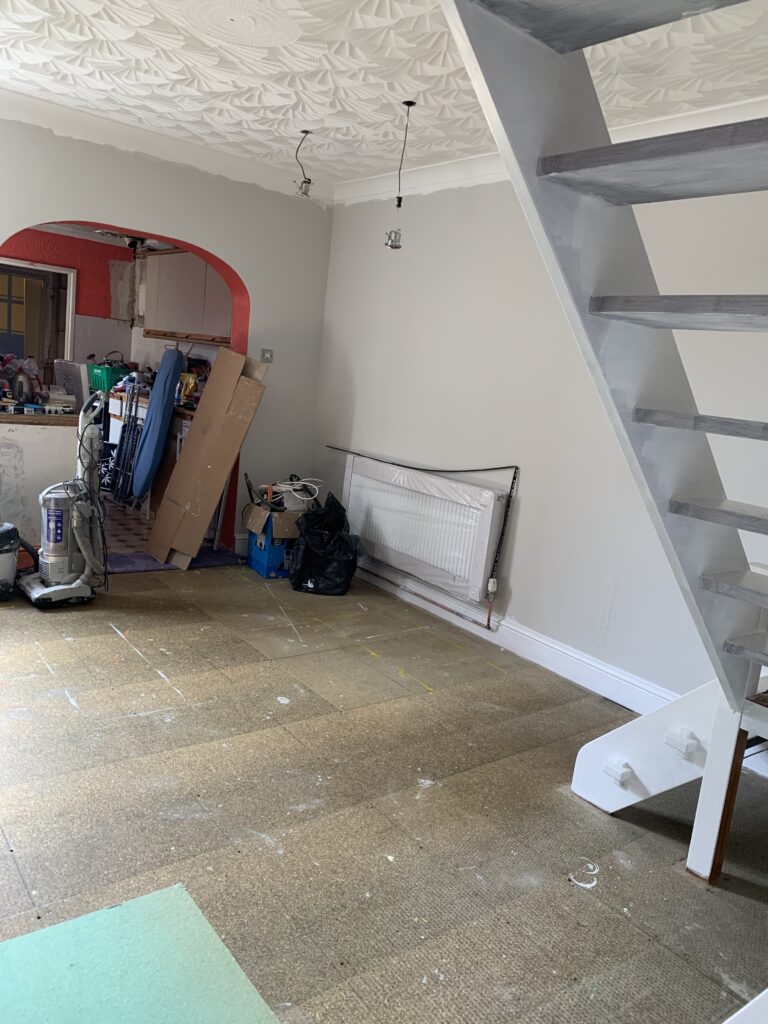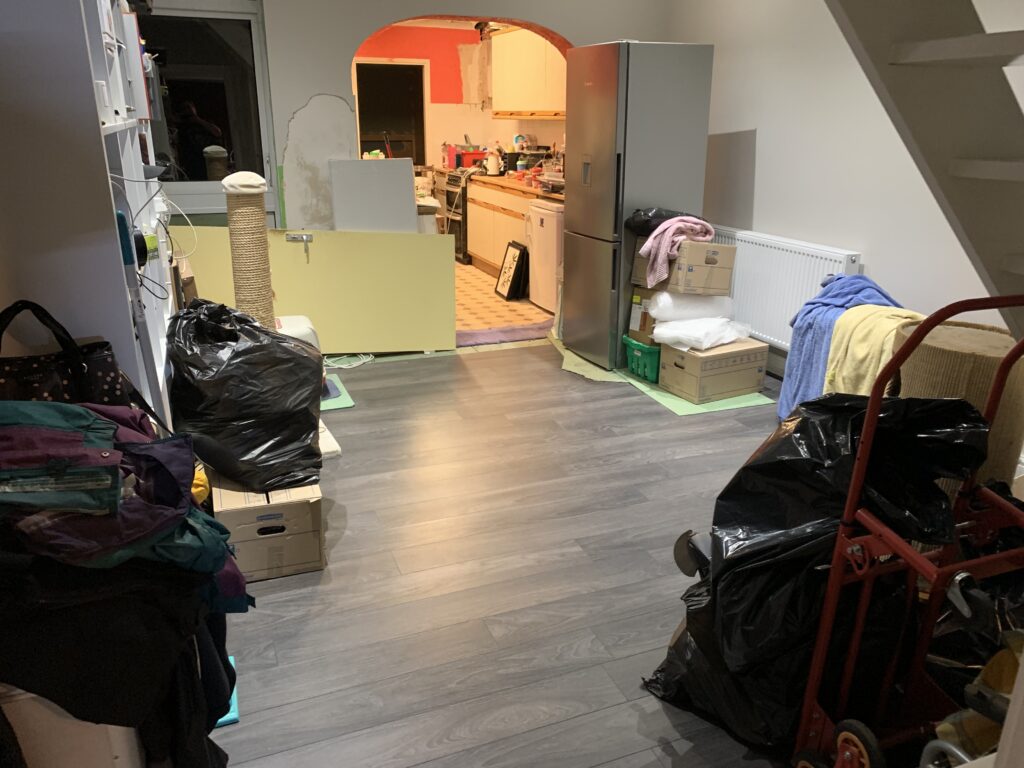 The middle room then waited for the kitchen to be done before it could be completed (the arch gets remodelled!).
Front room
The living room already had a fantastic solid oak floor, but I'd stained it dark 15+ years ago, and it was looking worn out. It needed a sand down, the walls repainting, doors replacing, woodwork and ceiling repainted. New radiator too of course. There is also a very small 'airlock' area between the front door and the inner door. It actually had never had flooring, so also needed some tiles.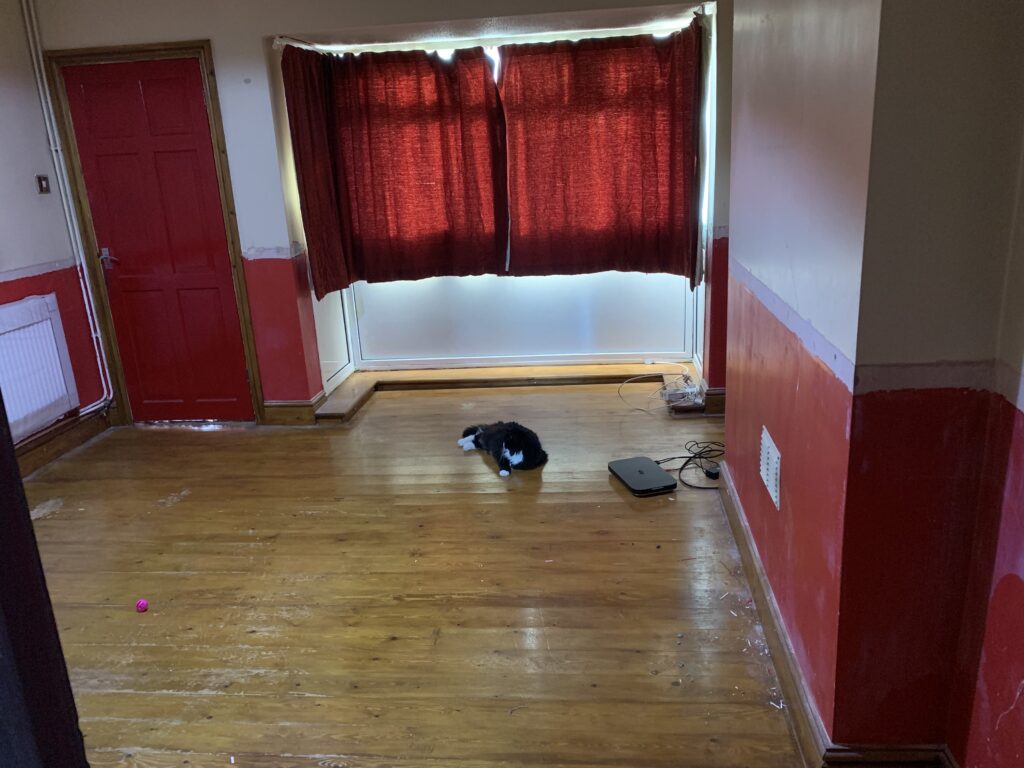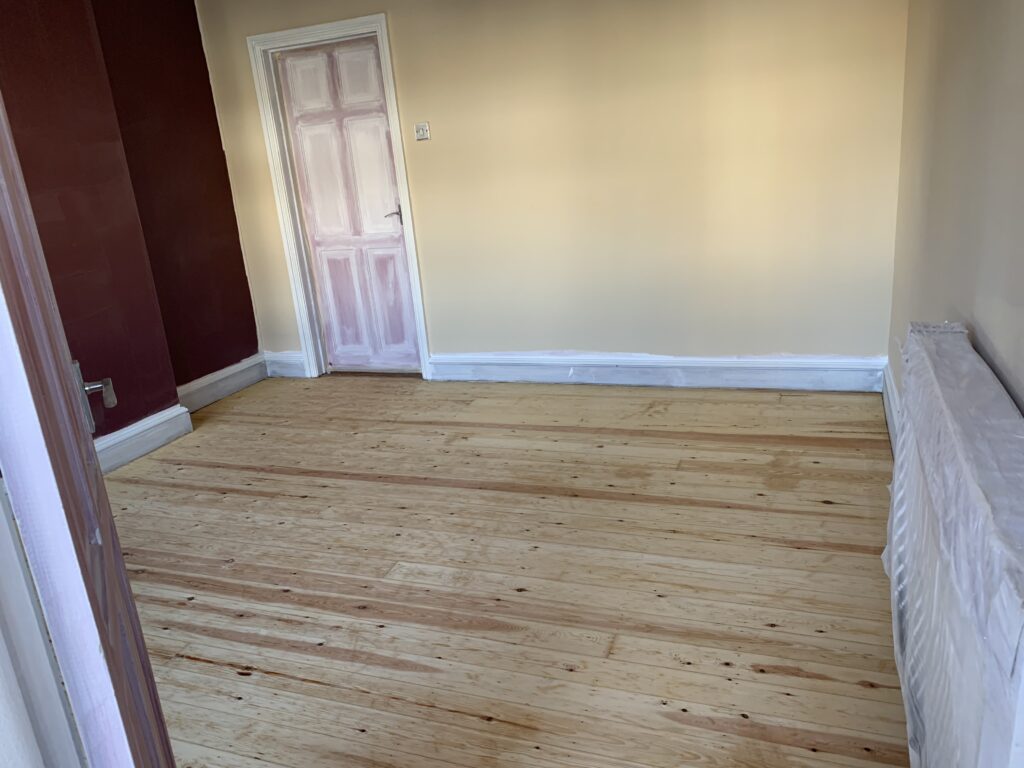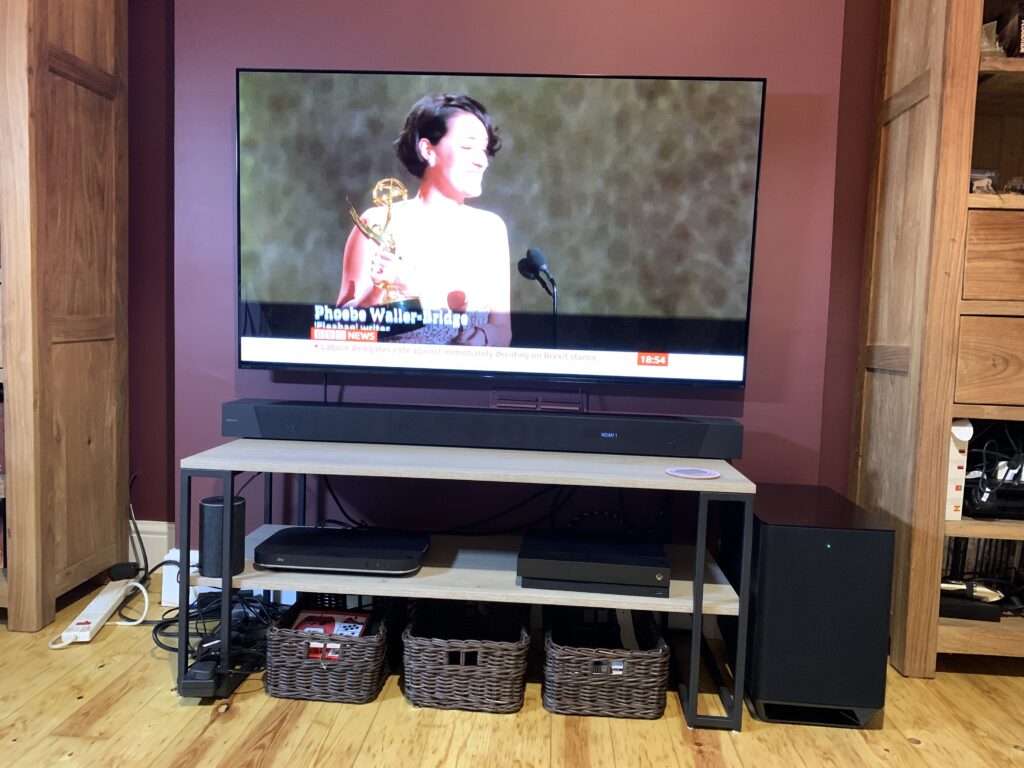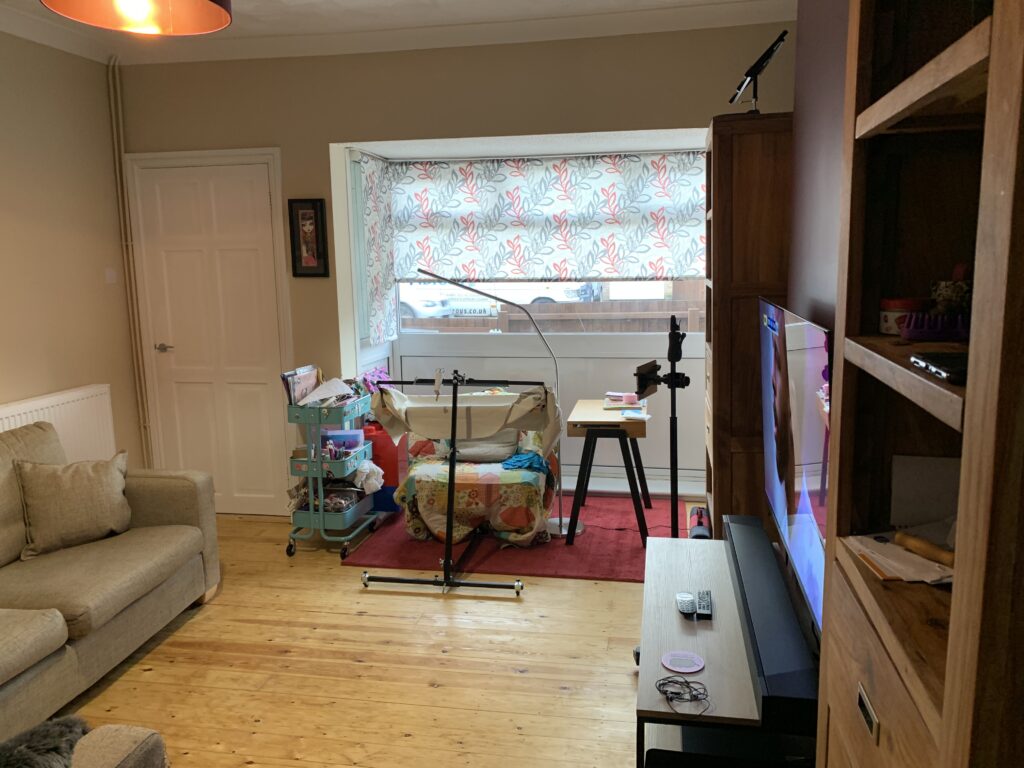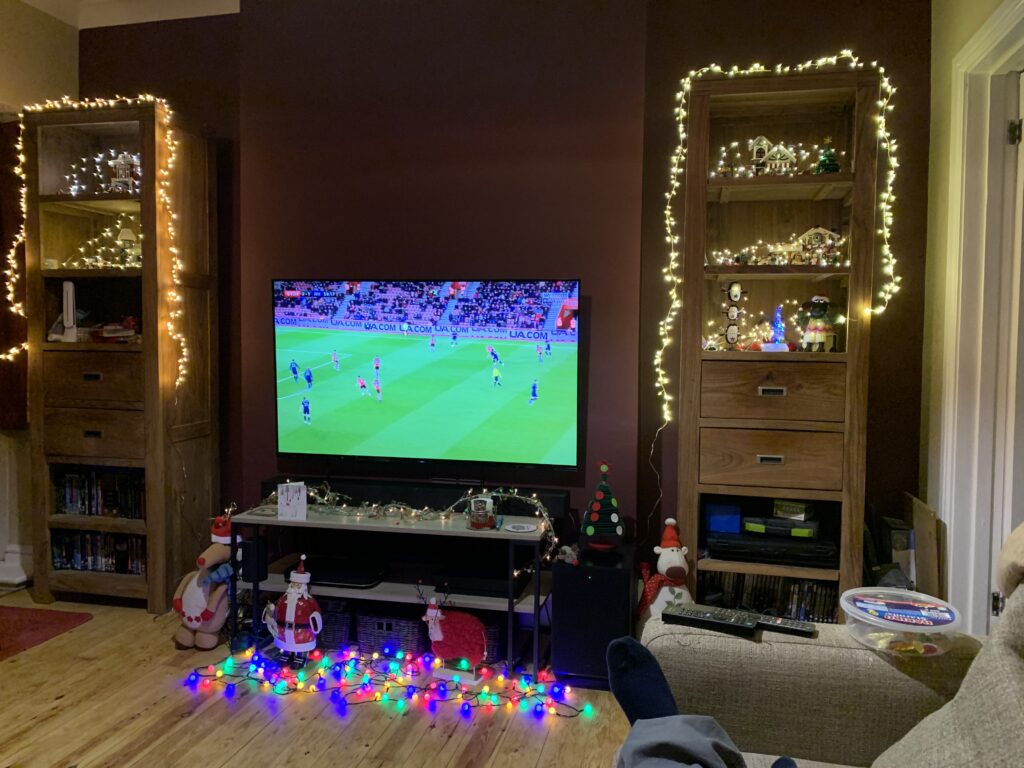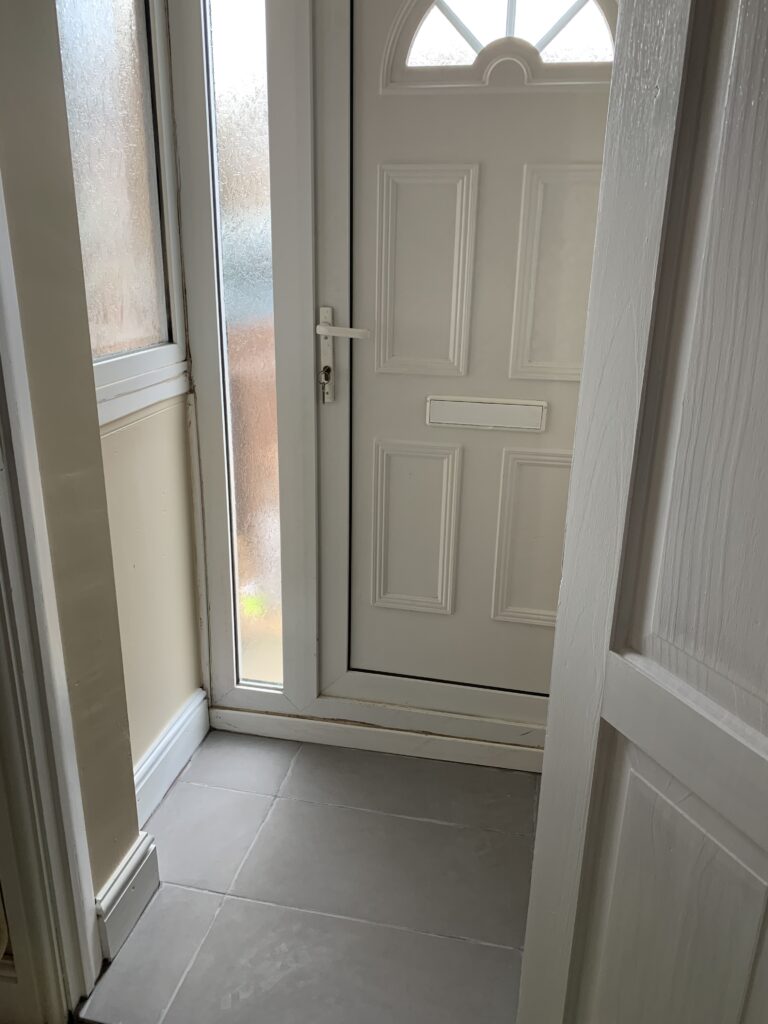 Bathroom!
And now after all of that, we actually started one of the two rooms we originally planned to update as part of this work! The bathroom REALLY needed doing. Part of a false wall was removed, as the old hot water tank wasn't needed, so the room size went up. Out went the bath, in came a shower, as big as they did em. Wall-mounted storage gave us much needed storage space. New windows replaced two wood-framed ones that were ready to fall out. Gareth had to build a fake back wall due to the slope of the brickwork. Loads of plasterwork replaced – including a new lower ceiling enabling us to have spotlights and overhead light/extractor fan. The work was done around the toilet/bath/sink – so we could use it until the very last moment.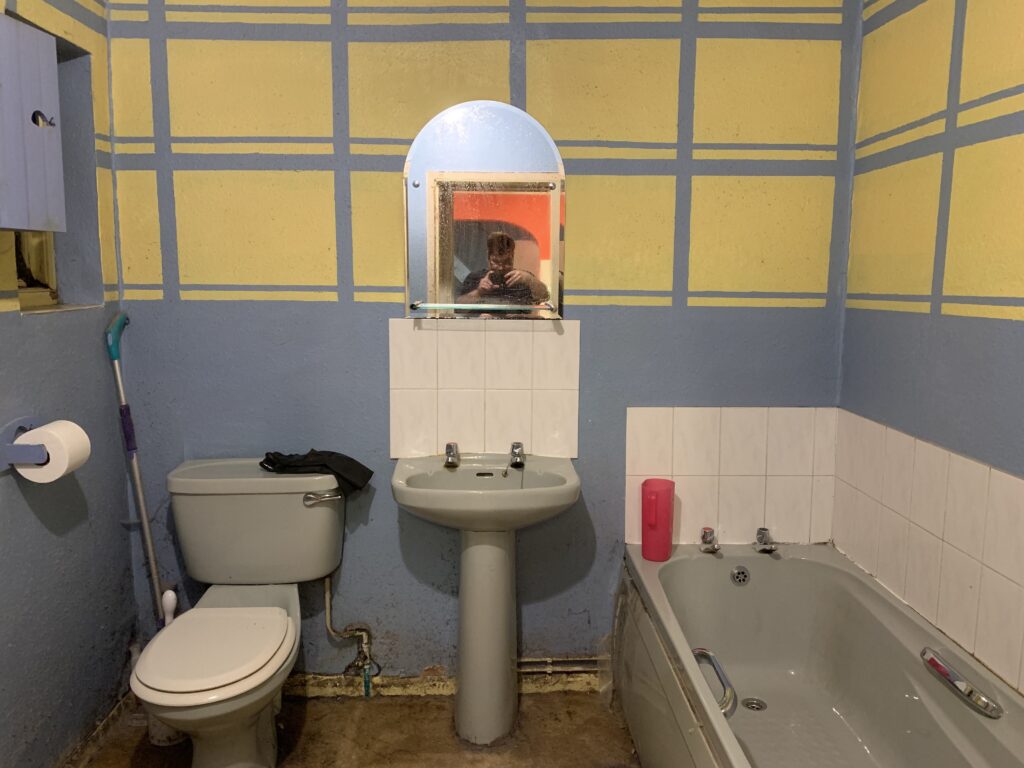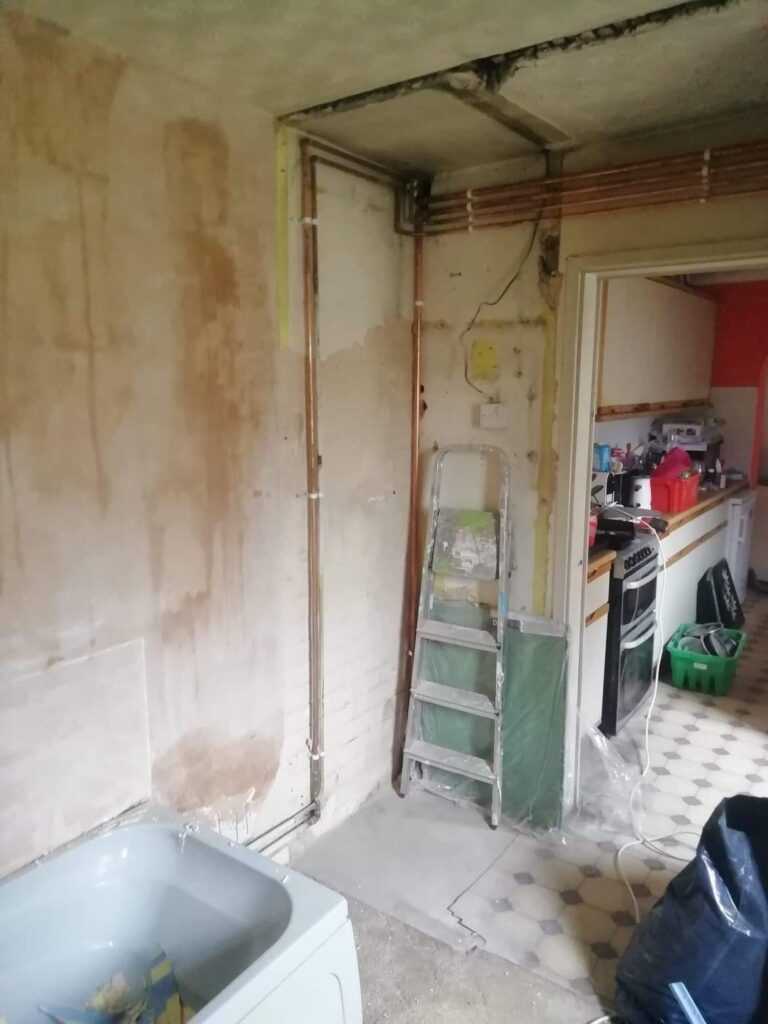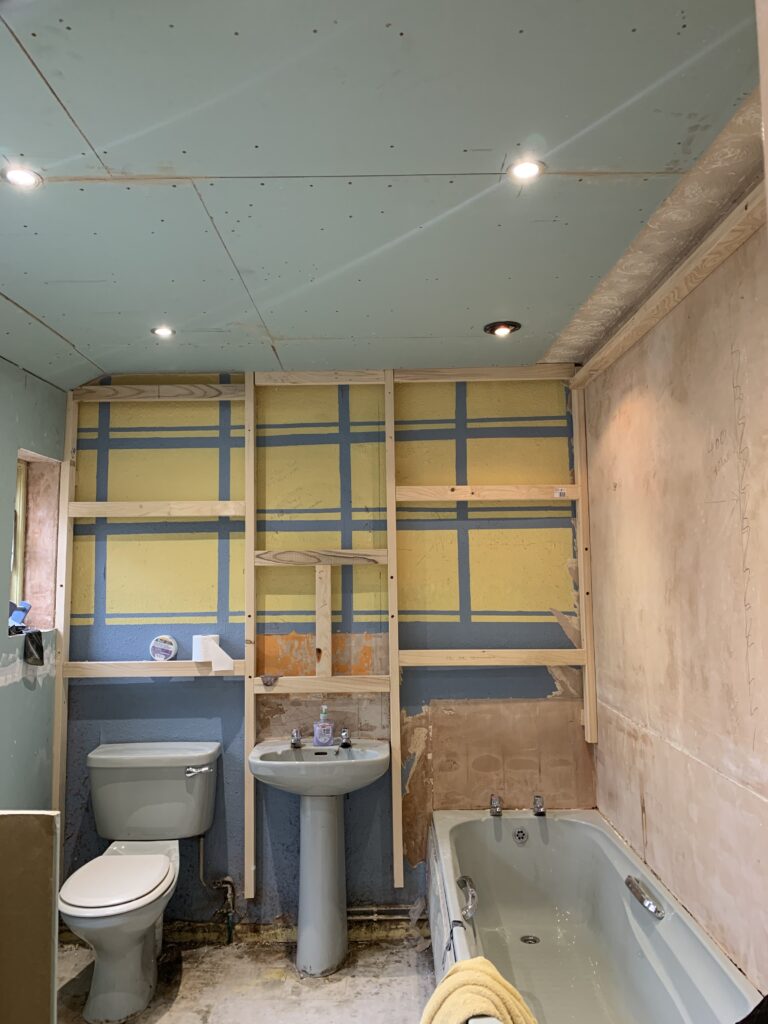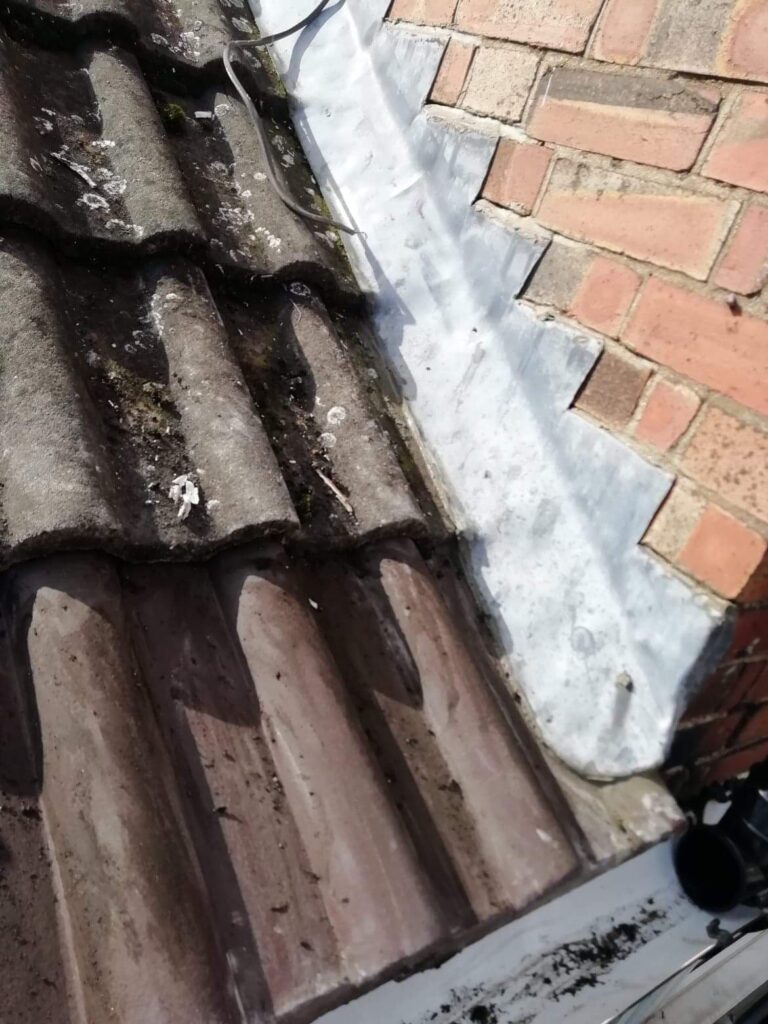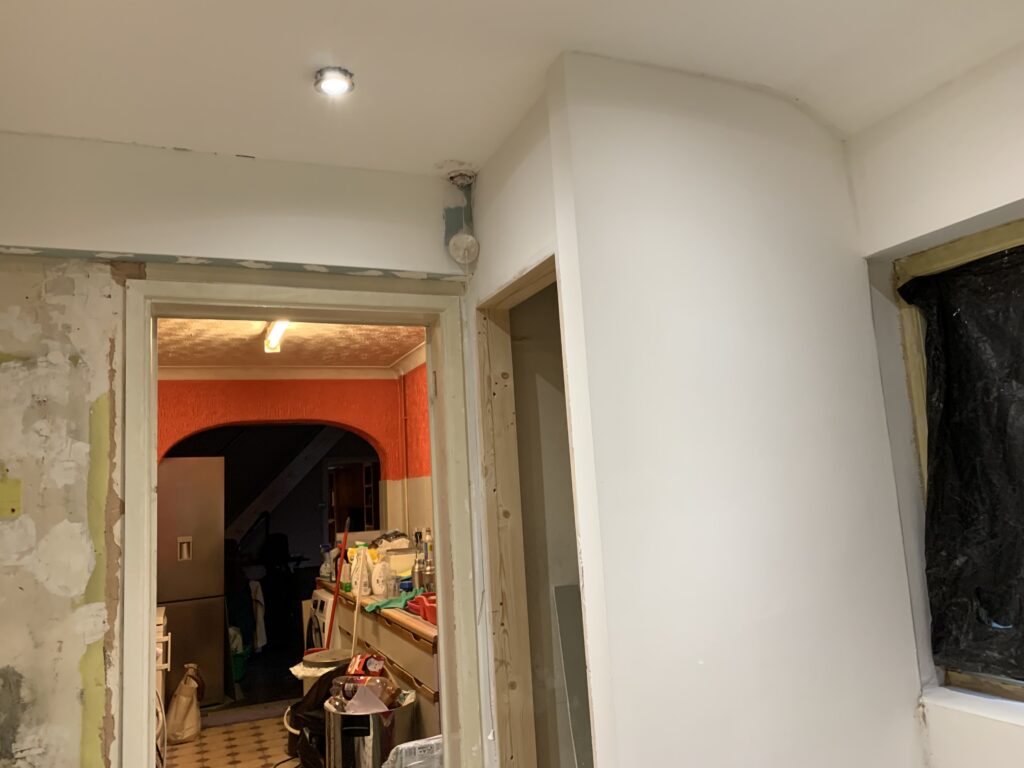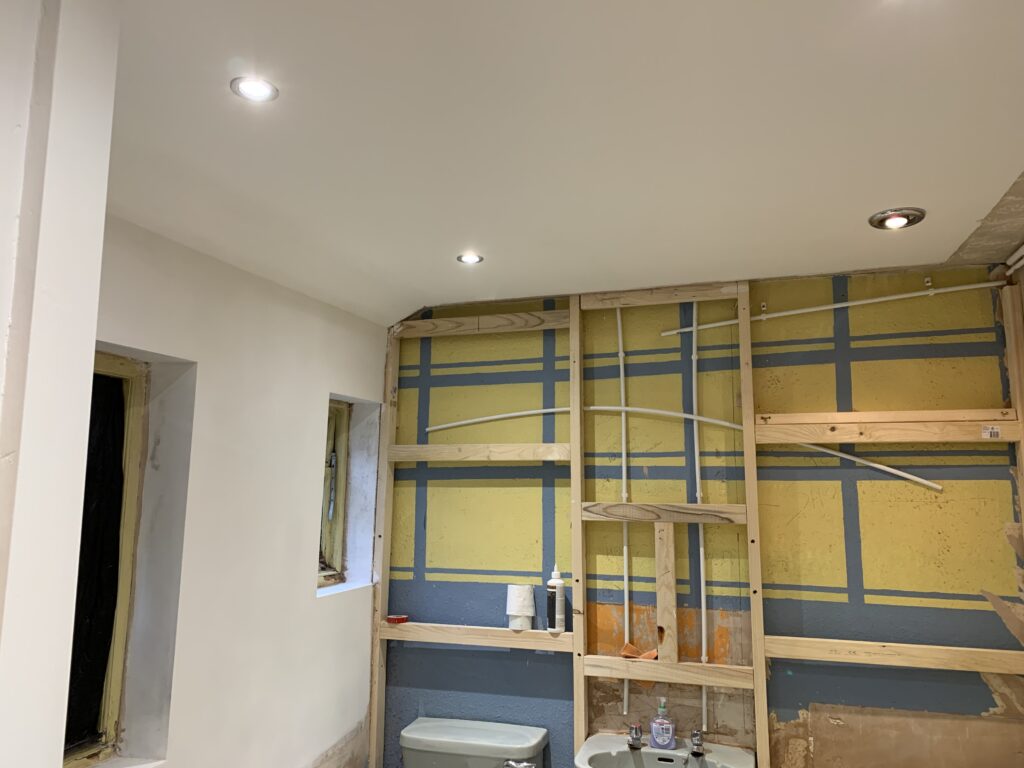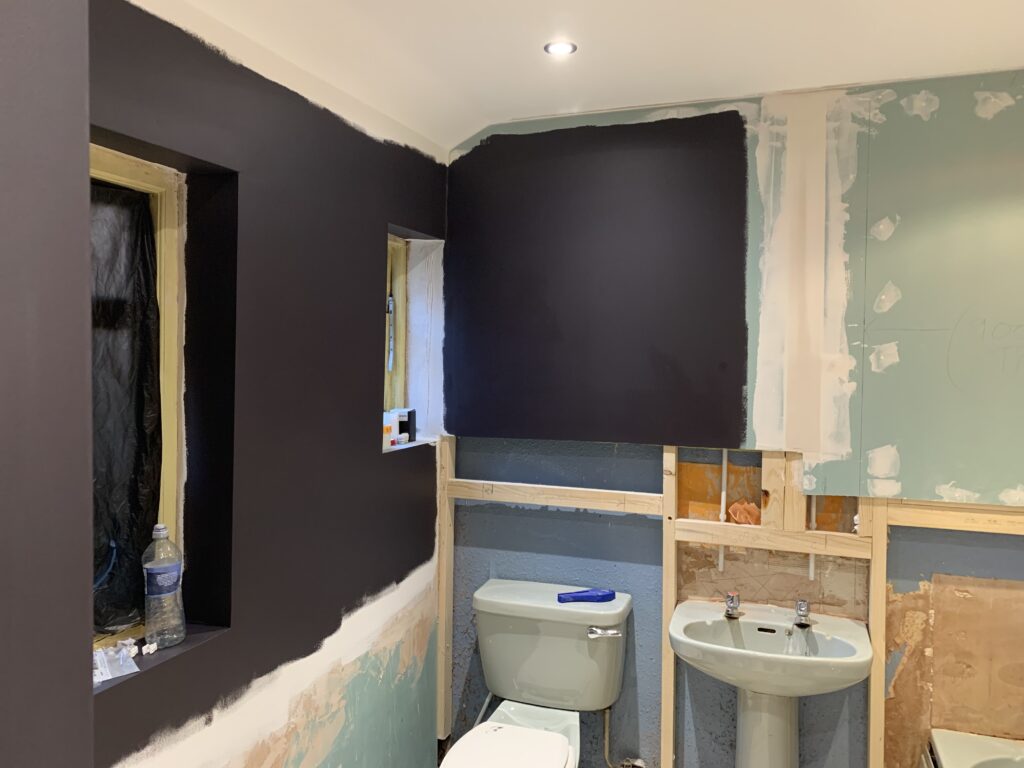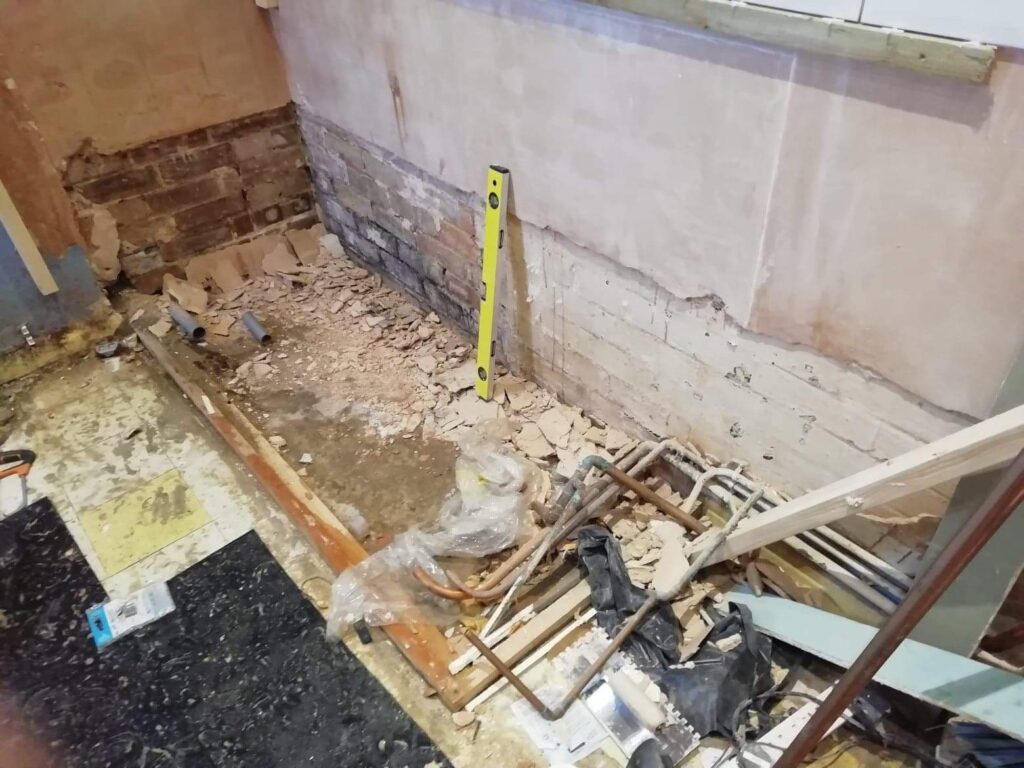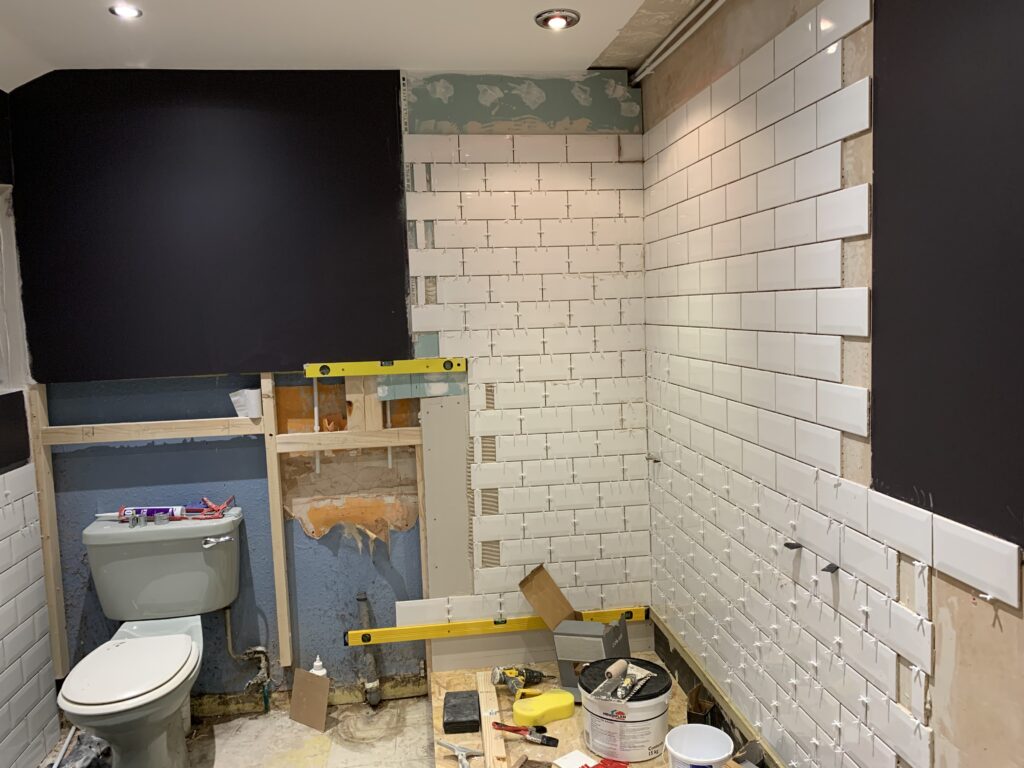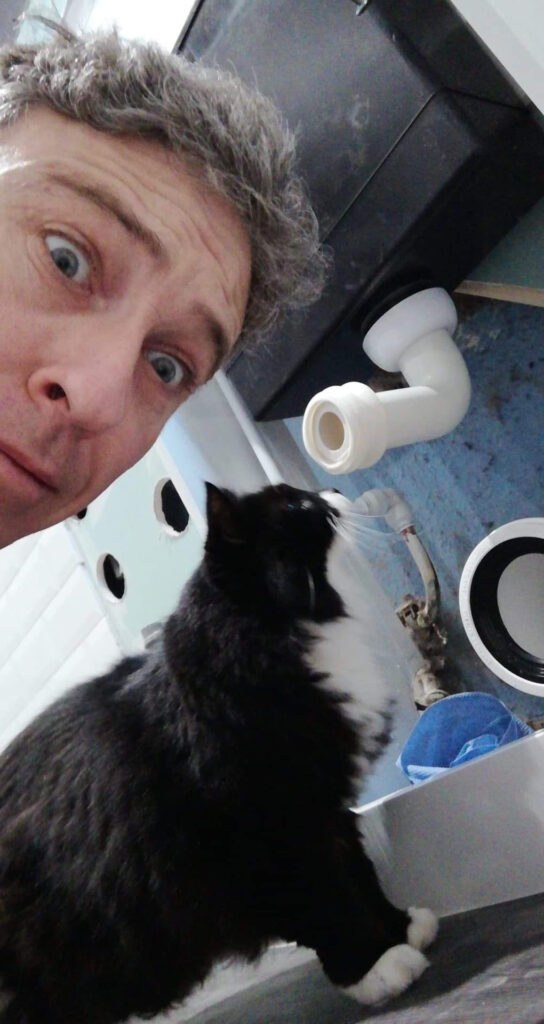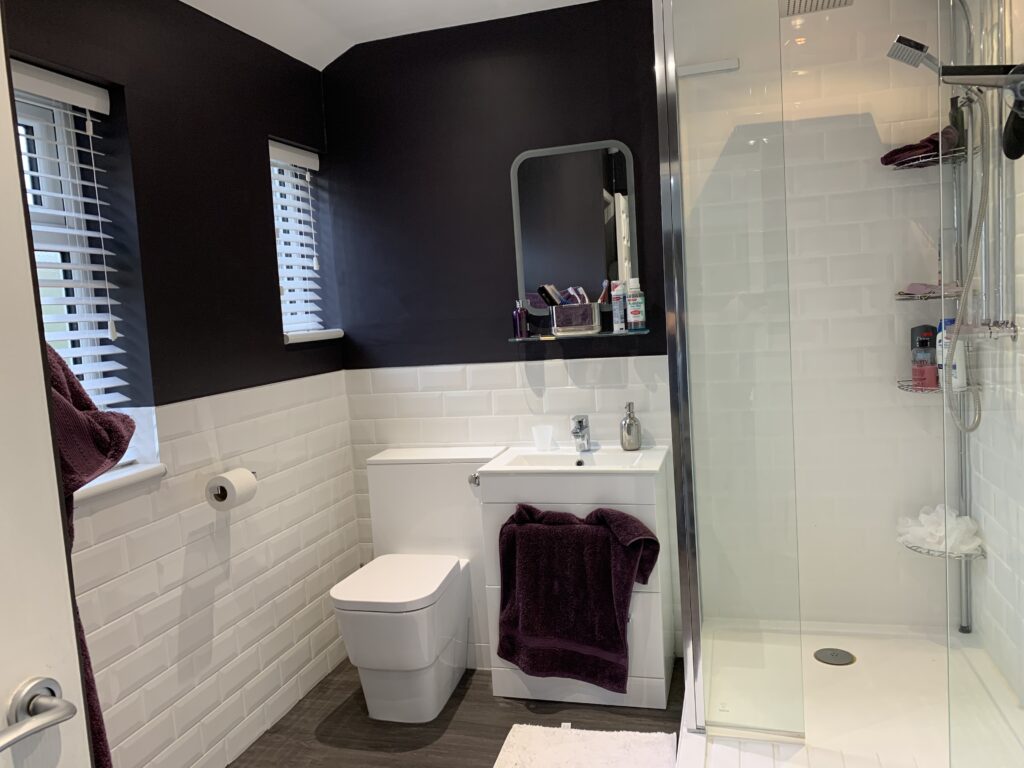 The Kitchen – this is it!
The windows all went in after the kitchen – but the kitchen going in was a massive moment, when it really felt like the end was close. We knew what we wanted from Wren, and Gareth went along and pretended he was me (as they don't deal with trade). Lots of text messages were swapped that day. I wanted a top end fridge, and a range cooker. I've always wanted a rangemaster cooker! Sad ain't I?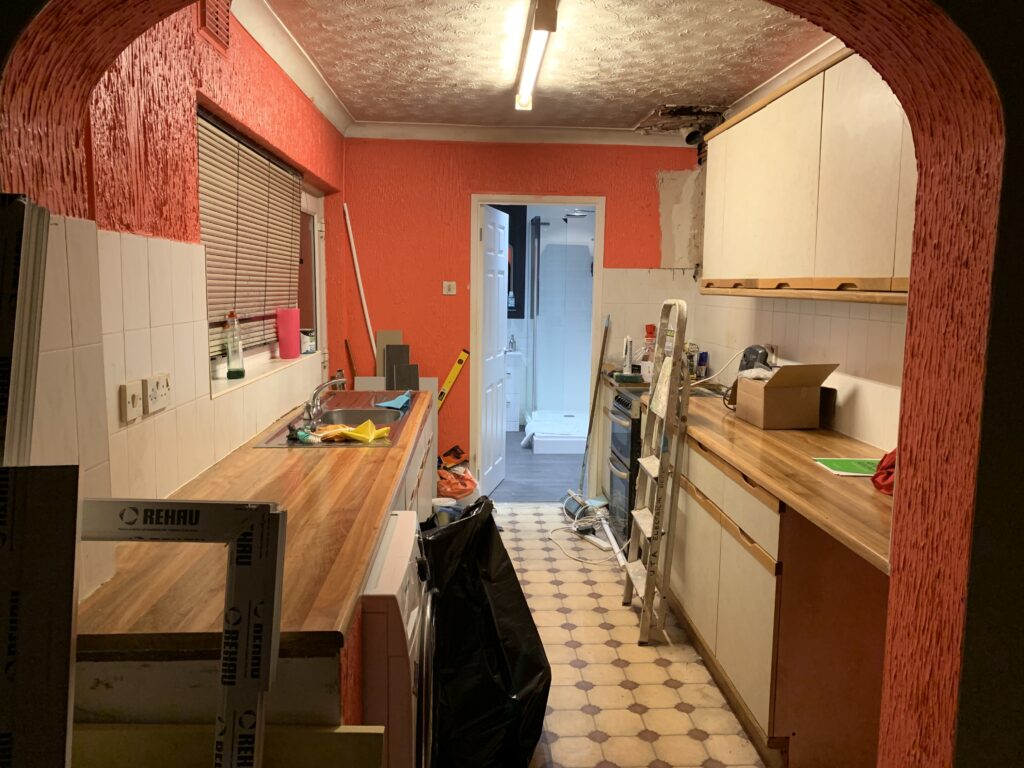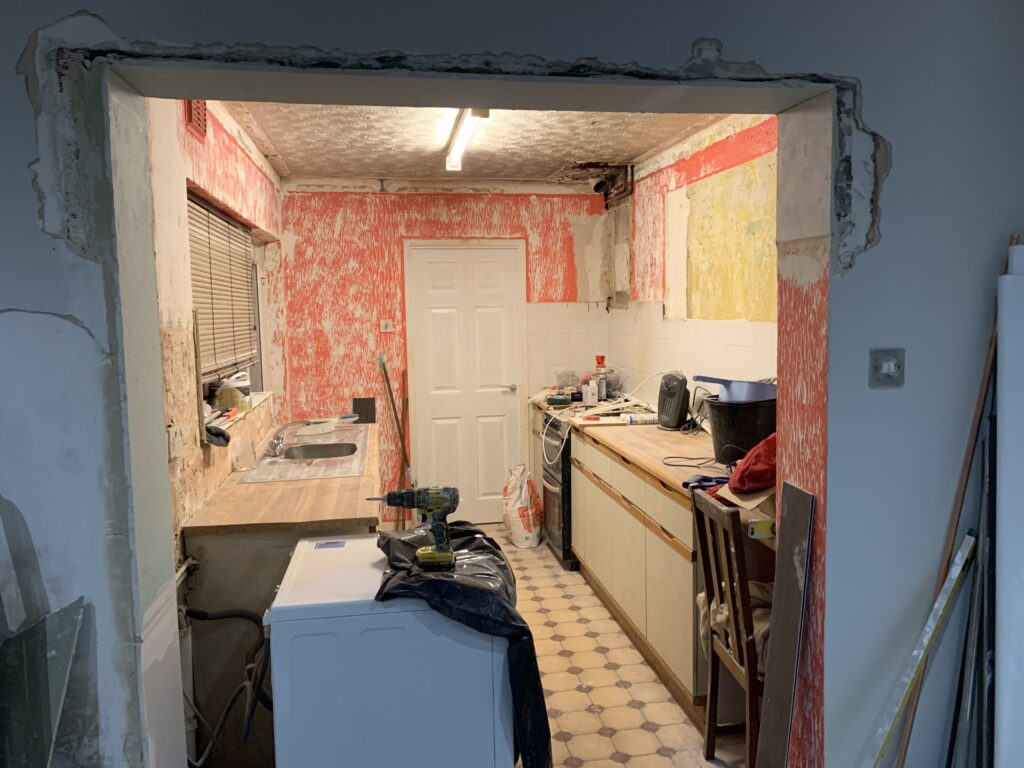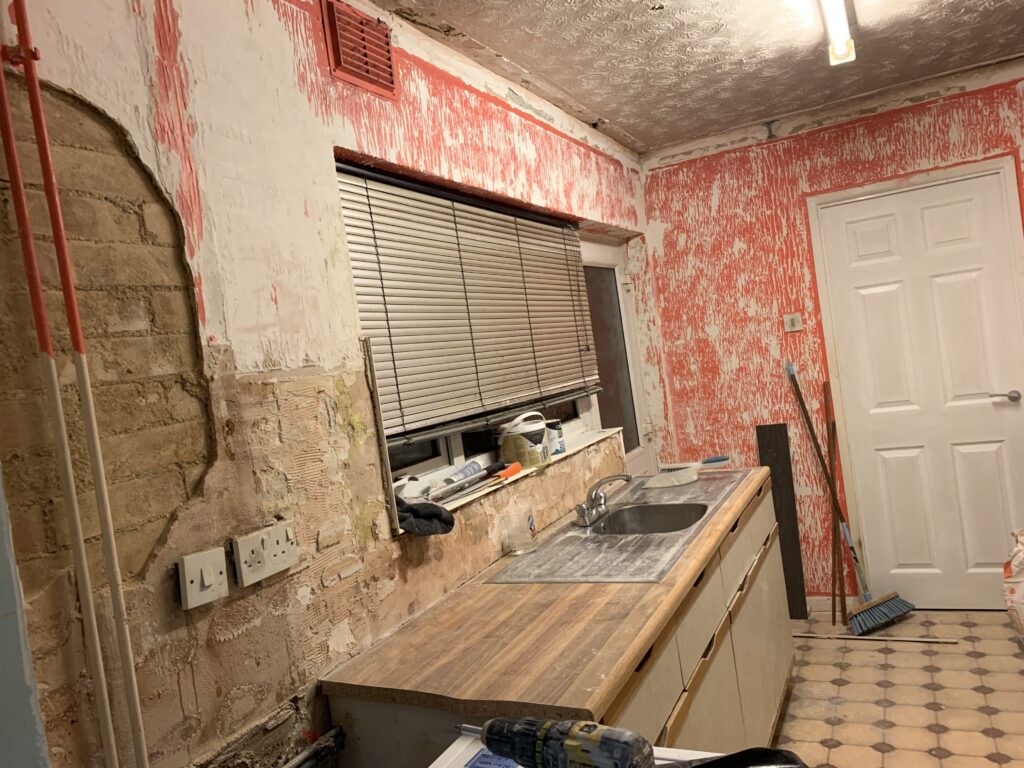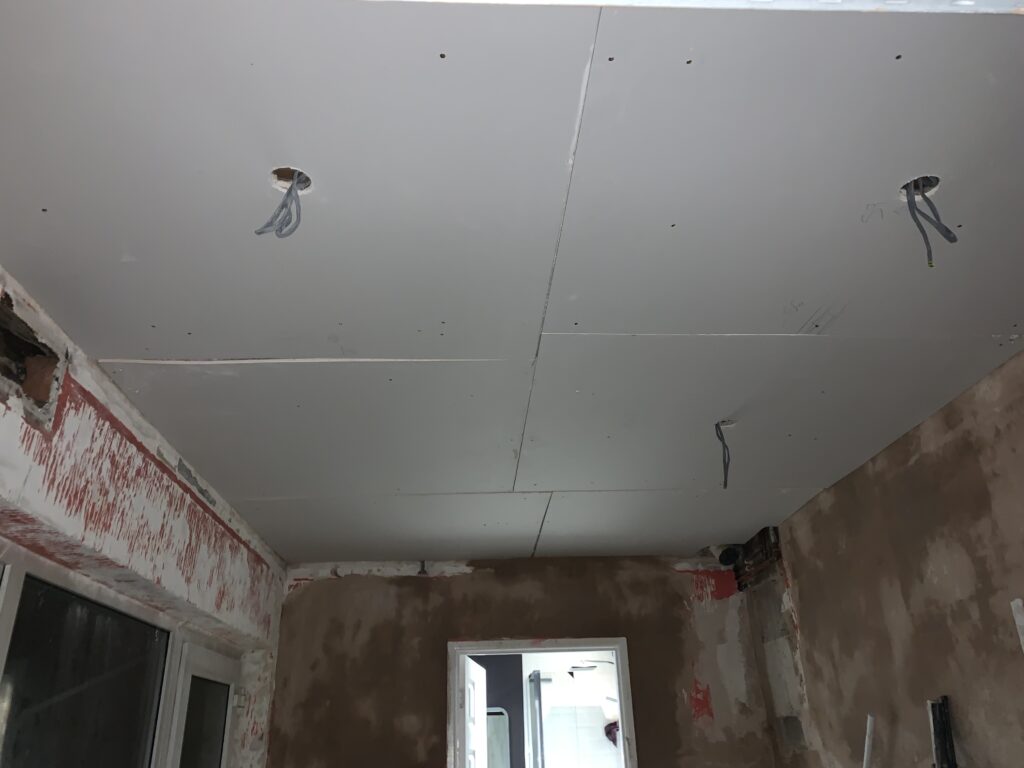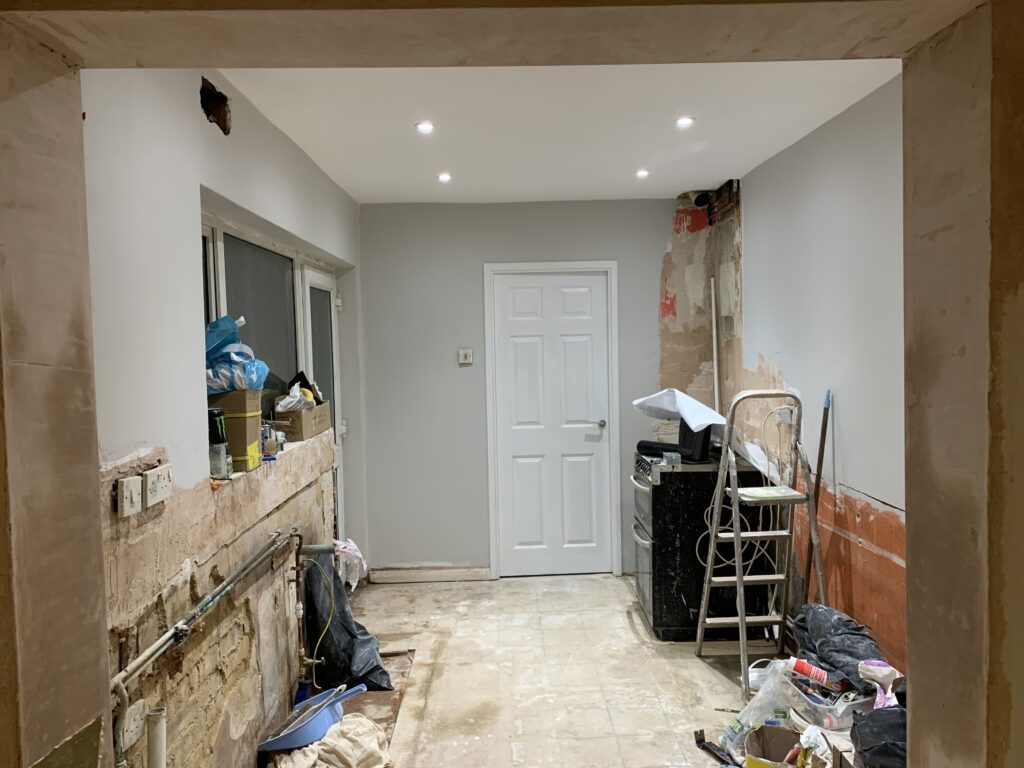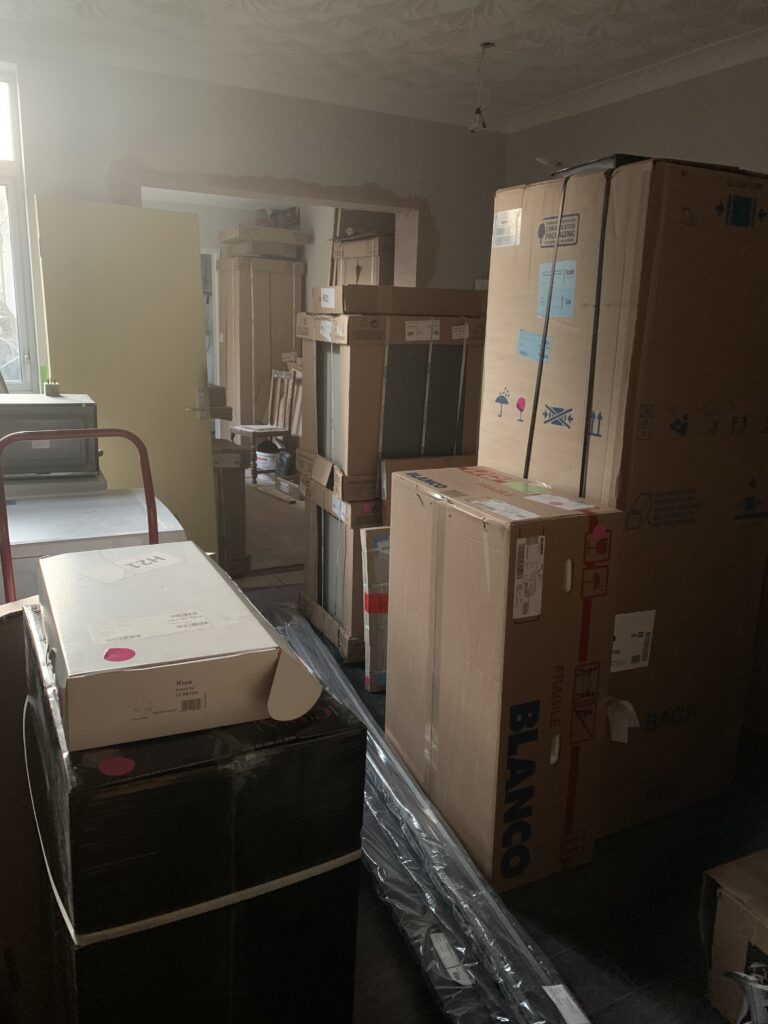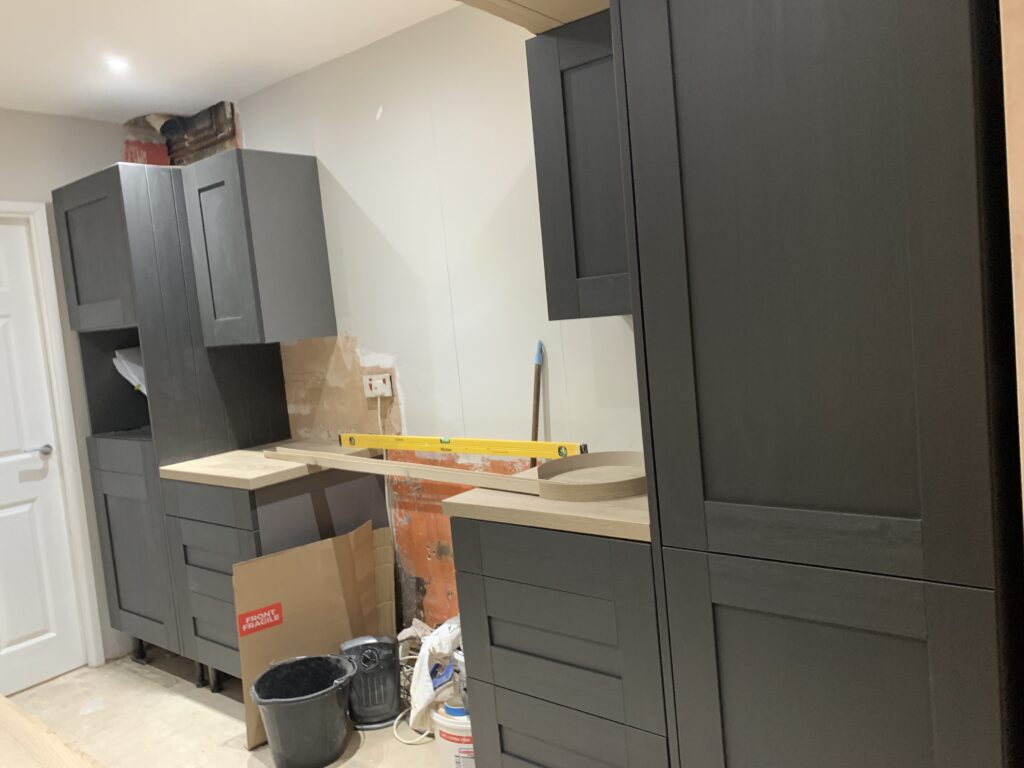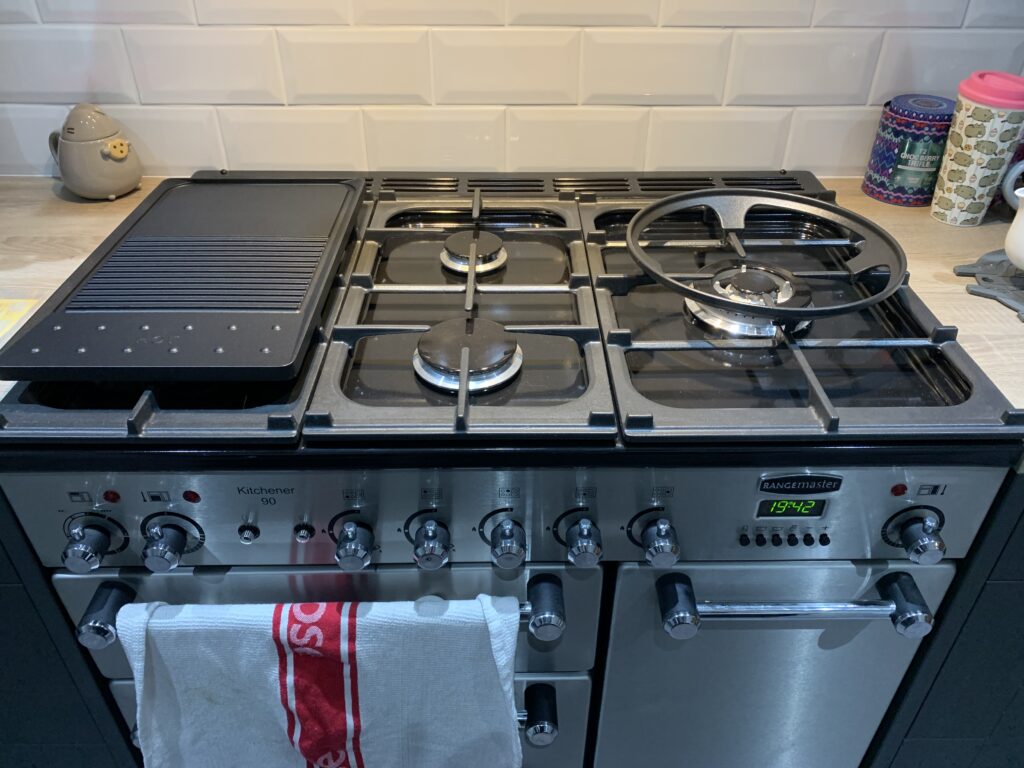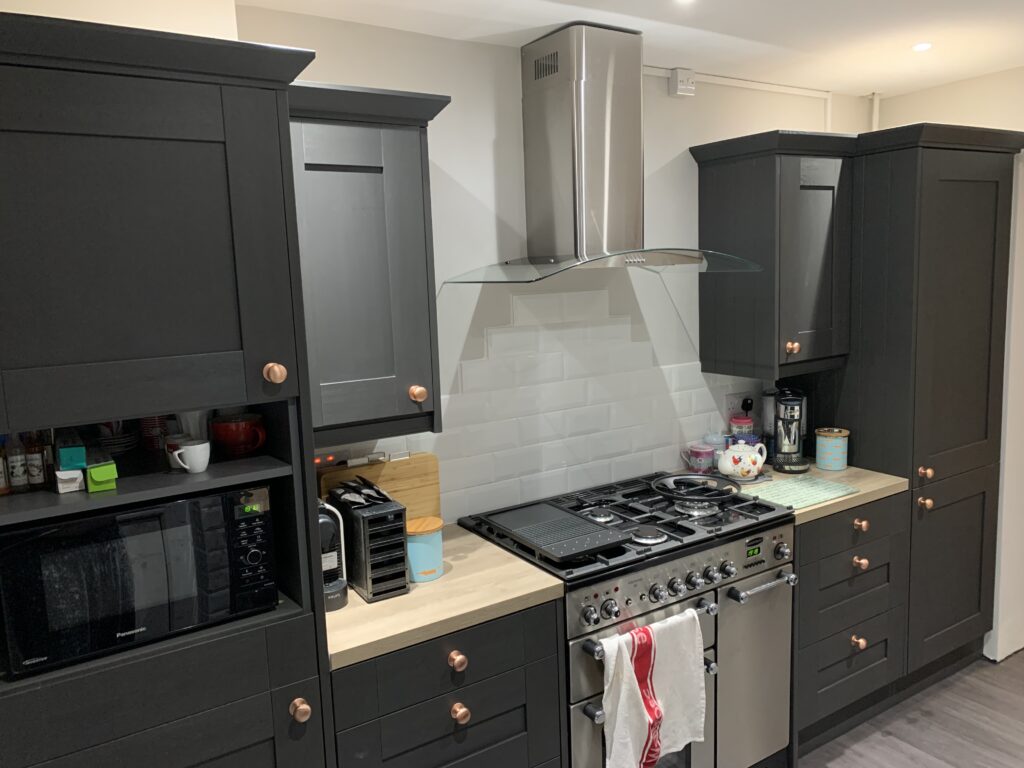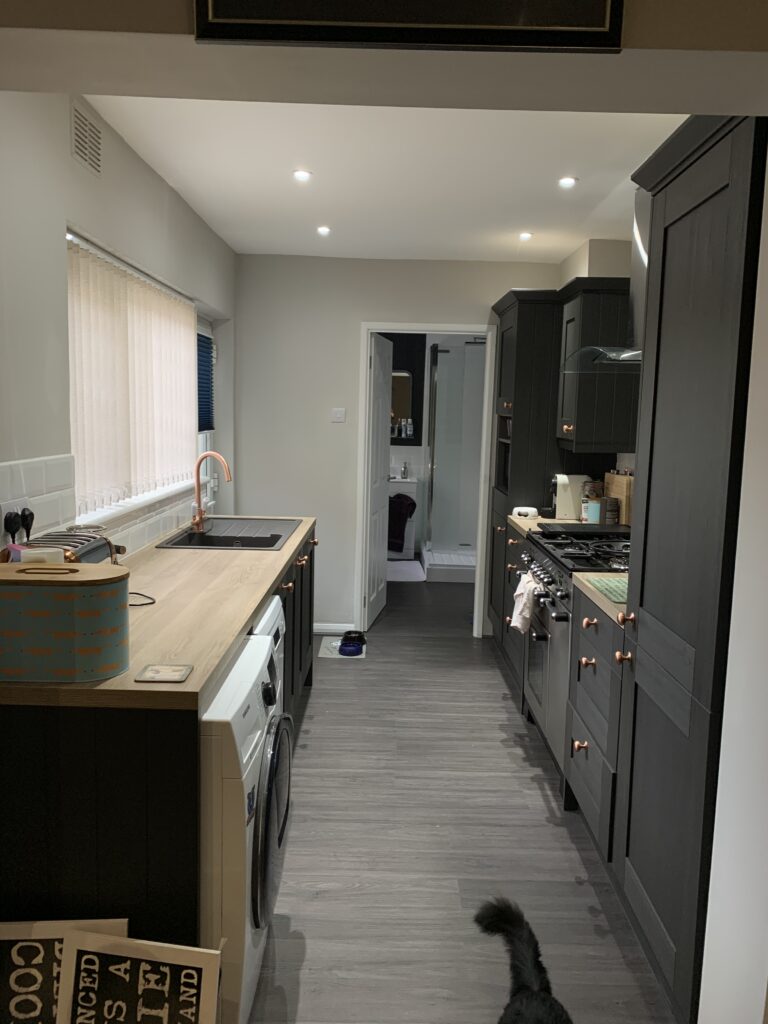 Games room revisited
Once the kitchen was completed, the final bit of flooring and plaster could be finished in the middle room.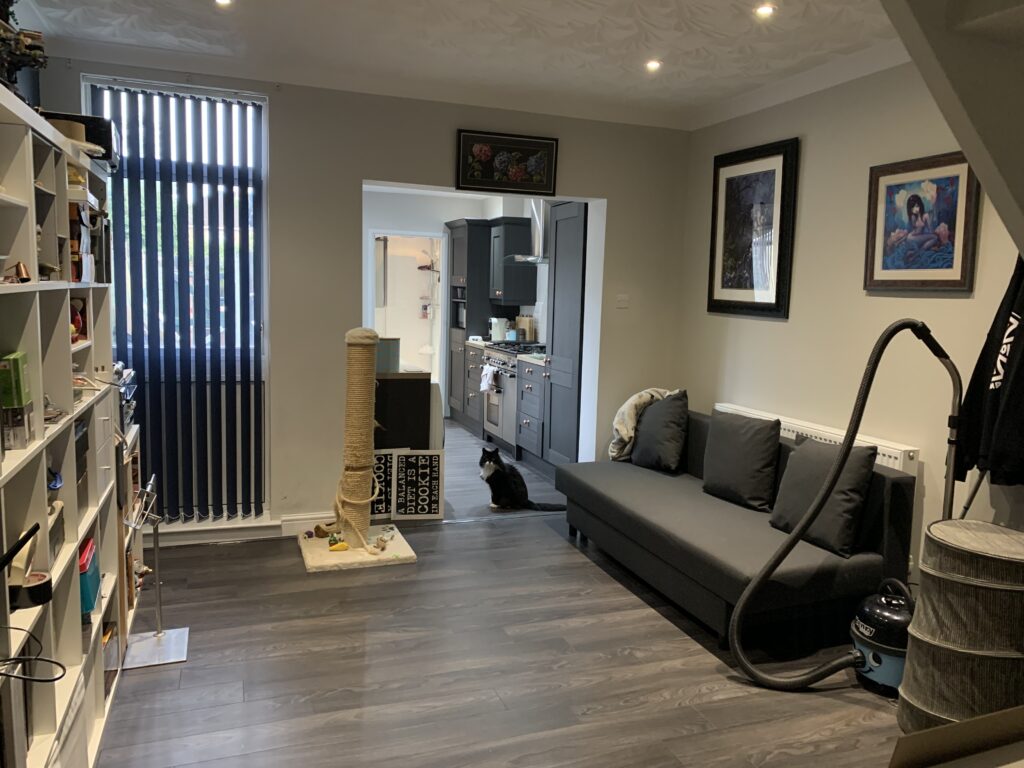 And the loft!
If you're doing the house up, why not sort the loft too? I was dead surprised how 'clean' and non-scary the loft looked after they fitted the raised flooring and put a decent light in. I'm not good at heights so I still avoid going up there too much!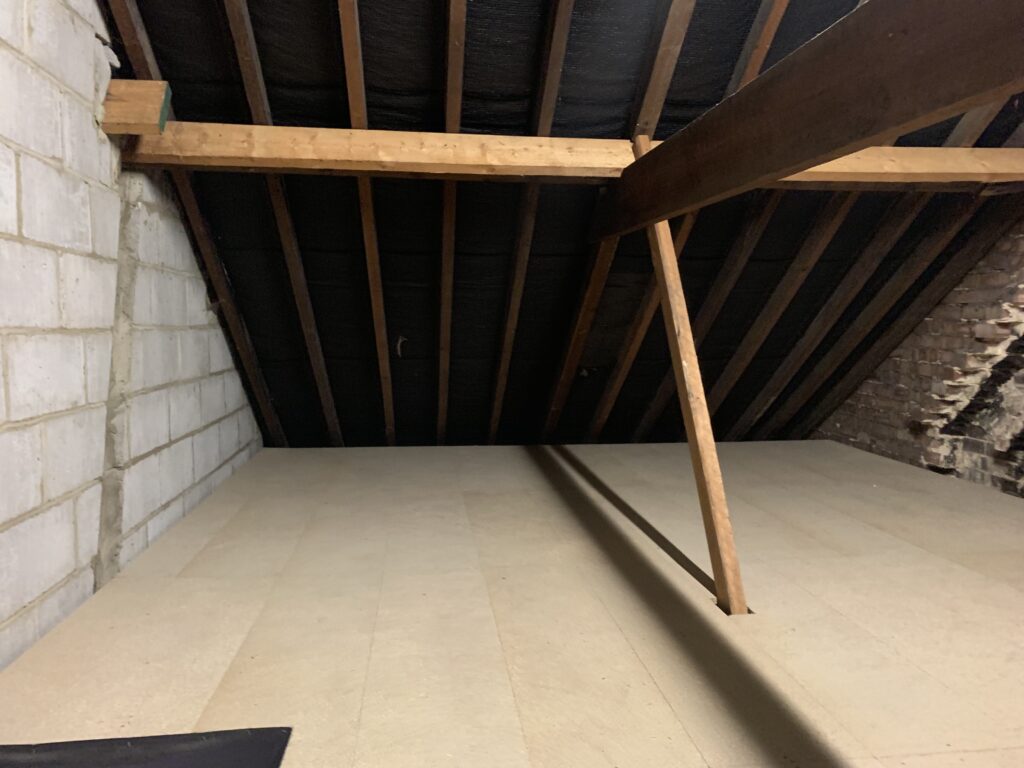 Front garden freshen up
Our front garden was a bit of a mess. We had grown some plants in a small raised bed, but people had used it to throw rubbish in so we kinda gave up. The floor covering was crumbling leaving bare concrete.
So we wanted a new solid fence, get the concrete up and replace with liner and gravel. Then we got planting and people actually comment on it now and we don't get cans thrown in it. So it did work. Plus it feels 'safer' and we can let our house cat out in it – he's too old to jump the fence these days.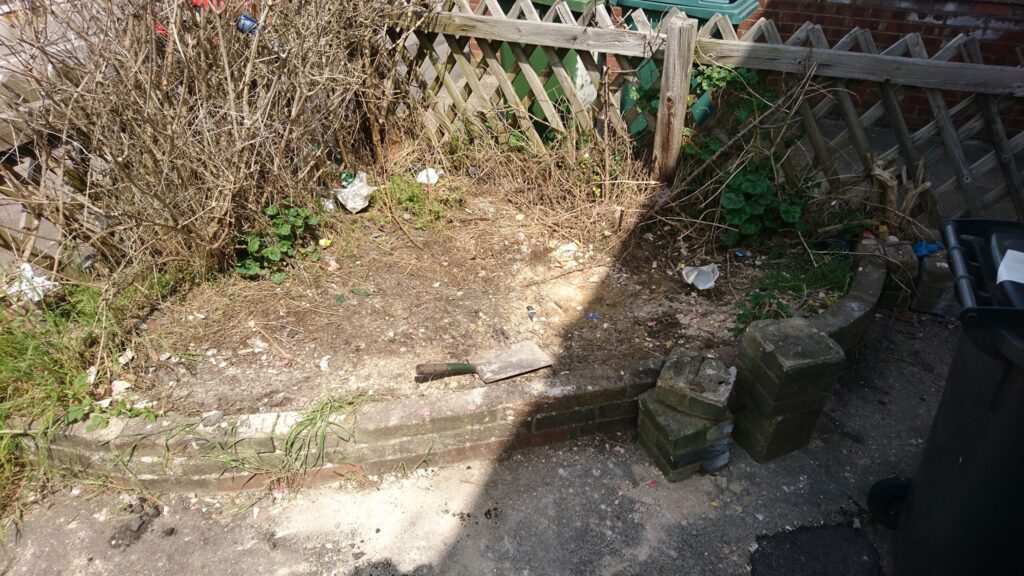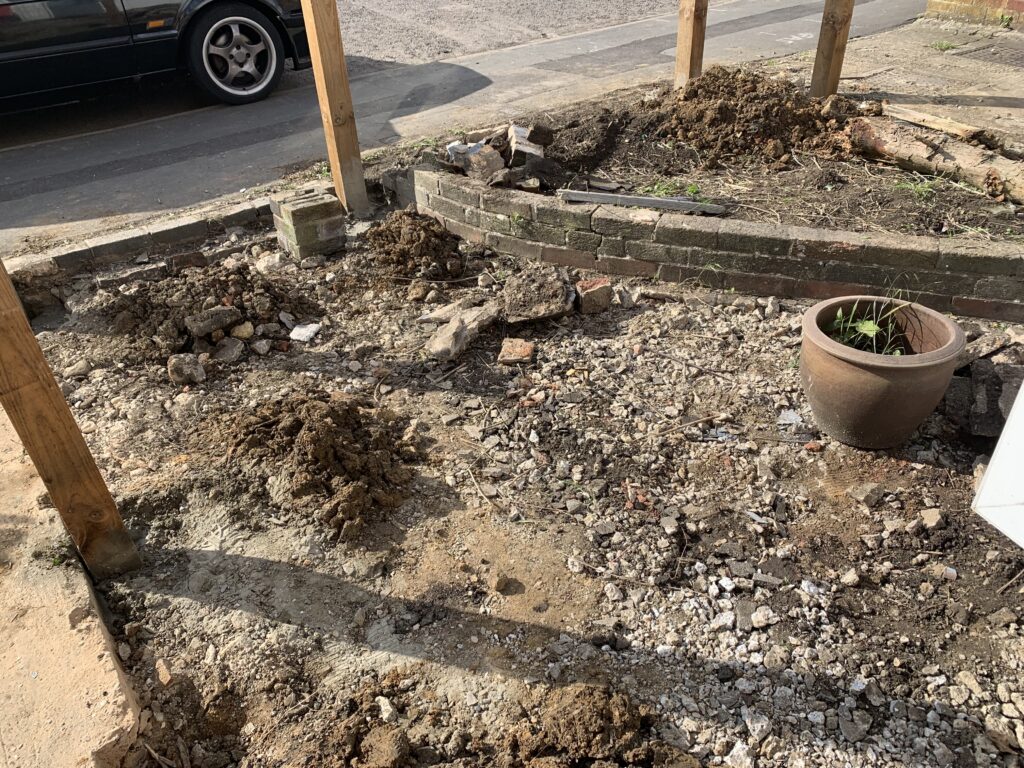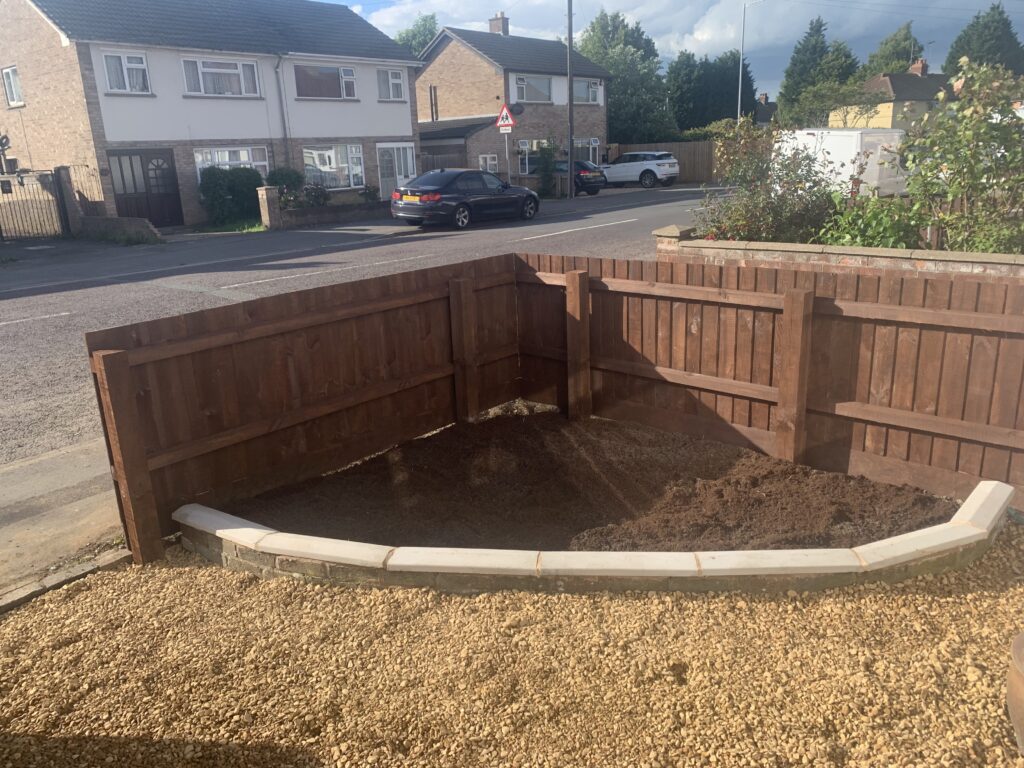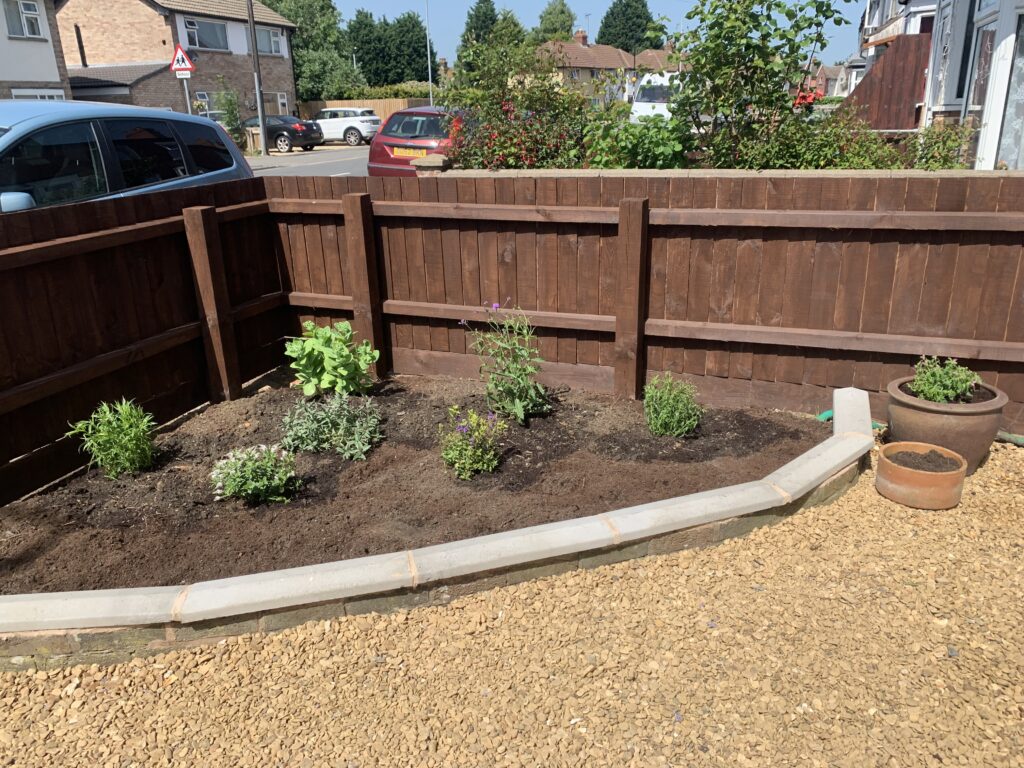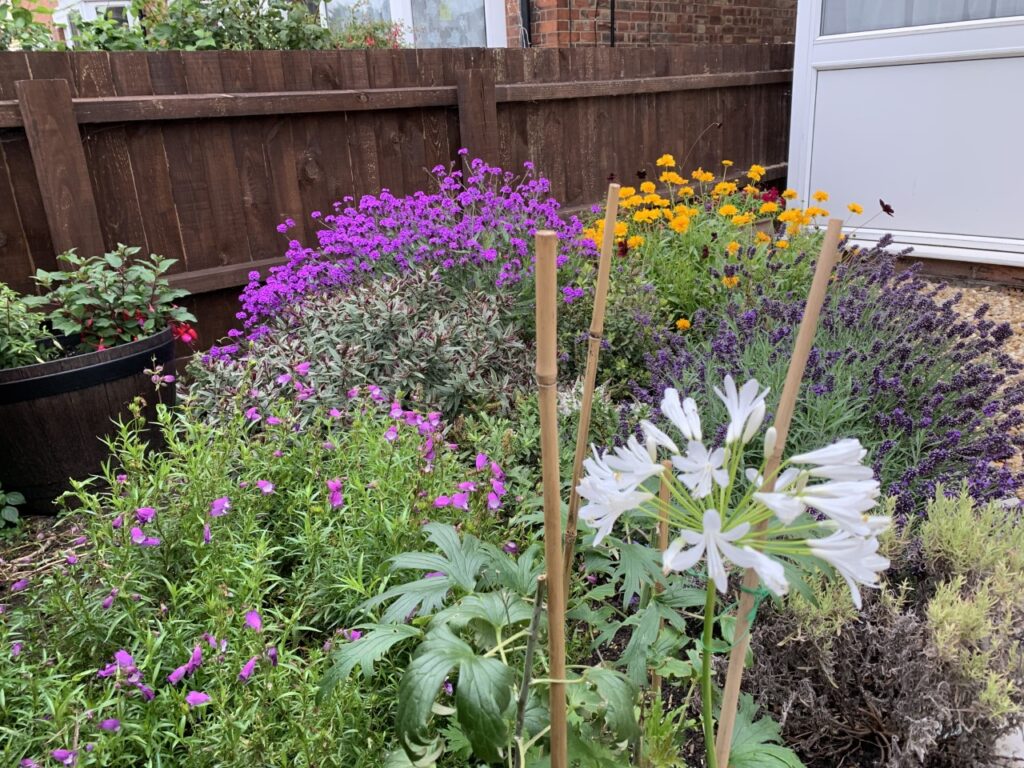 And now it's the walls!
As I type this – the main wall has been repointed at the side of the house – and the rest should be completed this month (fingers crosssed).
Because it's an old house, we can't use standard cement. It's too hard for the old bricks, plus it doesn't let the walls breathe, which would cause damp. Instead it's an old fashioned lime mix. The old lime was cut out creating the world's biggest dust cloud – and then it's a long slog of boring work. But it's giving those walls a new lease of life.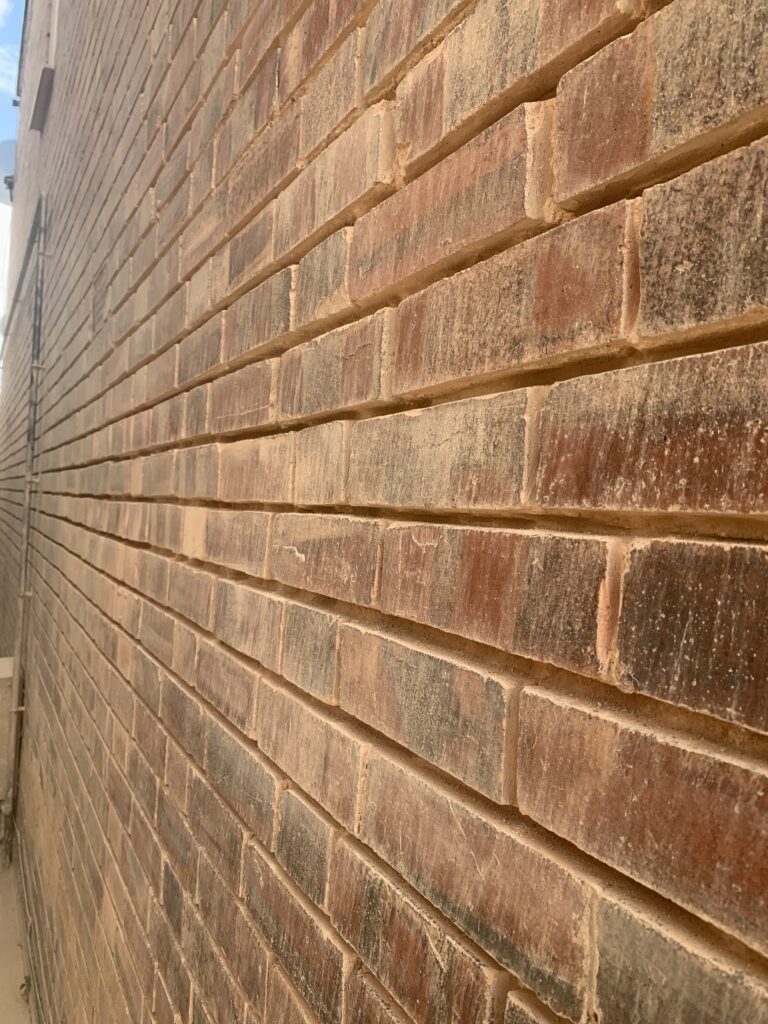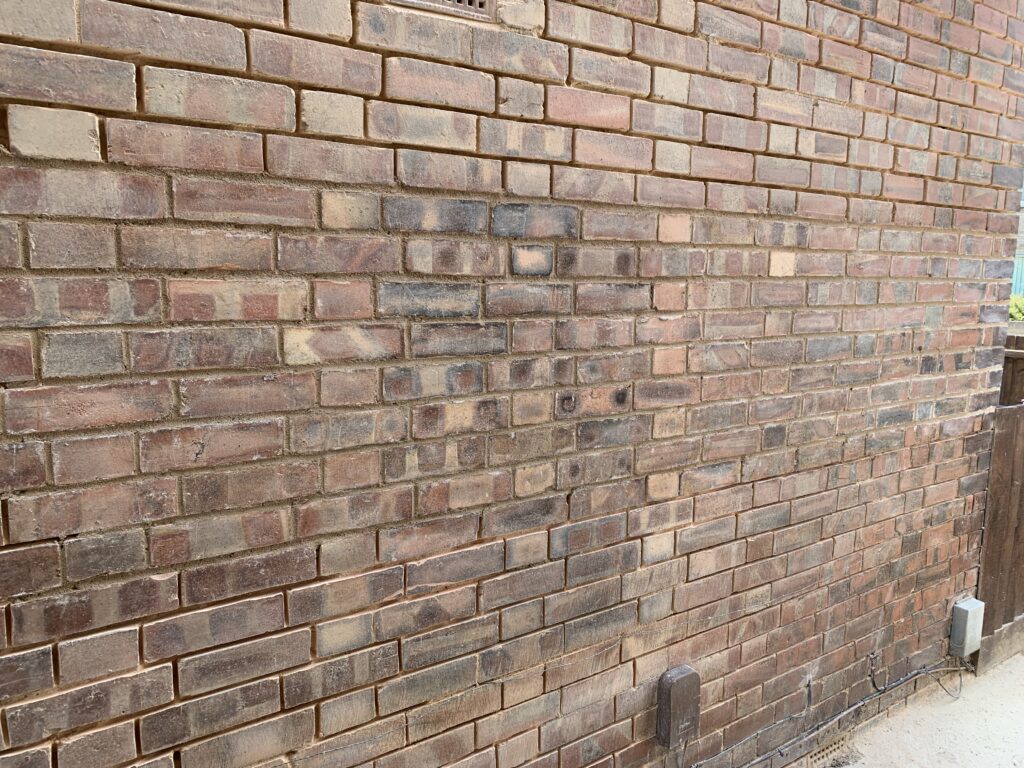 UPDATE 15th Oct 2020
The repointing work is now totally finished, with Andy and John completing it lunchtime 14th Oct 2020. It took ages to get several layers of paint off from around the kitchen area – we couldn't get it all off in a realistic timescale, so left the last layer as you see in the photos. It's fine with us – it was all about getting most of it off, letting the bricks 'breathe' to stop damp. The worst mortar was also cut out, and replaced with lime.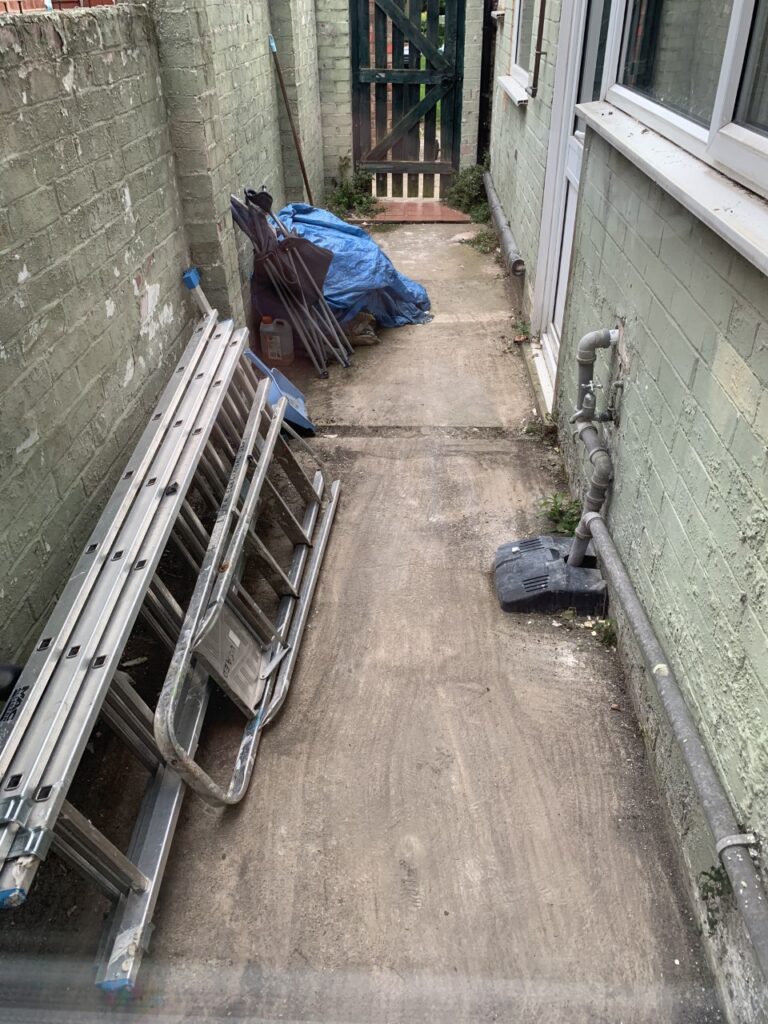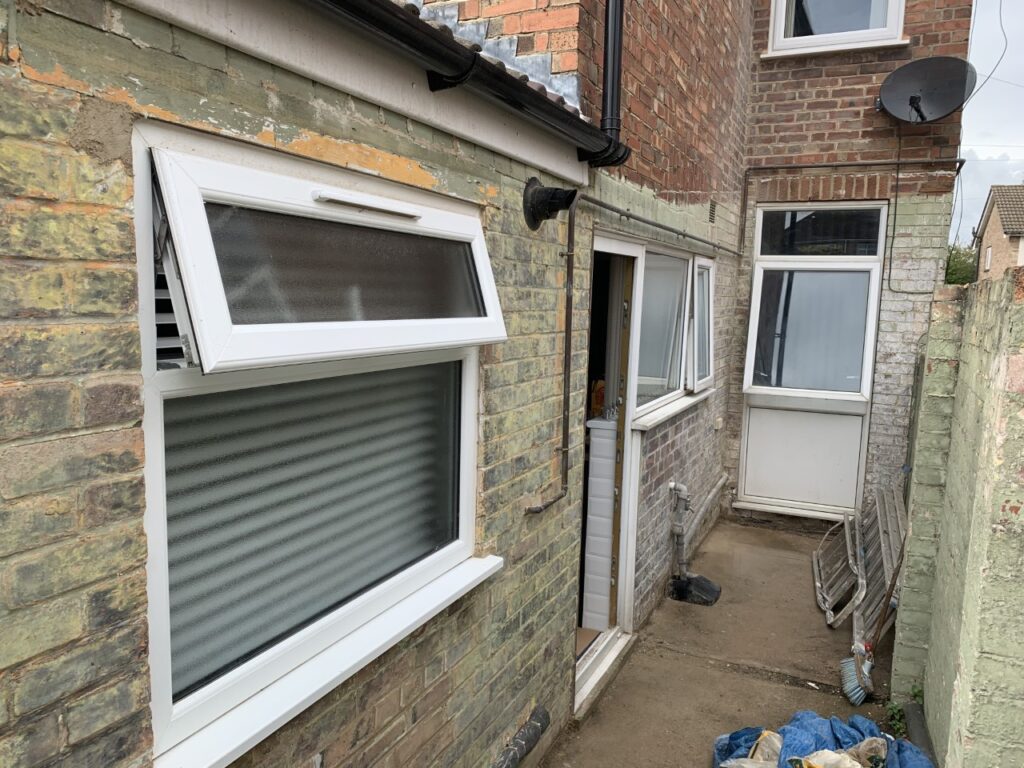 So that really is everything we had on our list of work finished. We're not 100% done though, as there's a hole cut by our heating people to fill with concrete, and while at it, use some to create a very slight slope away from the house to stop rainwater sitting against the bottom bricks for any length of time. Oh and a dripping outdoor tap. But then that's it!
Thanks to
So that's about it. Obviously a massive thanks to Gareth for all his amazing work and advice. He took a medium-sized job and undertook a massive job for the same budget. It looks amazing too, real life-changing stuff. I think that's his last job like this though – and he will be concentrating on making his vegan food business thrive: Resist! Vegan Kitchen.
Also thanks to Stu and Andy for the work on the front garden. And Andy and John for the re-pointing work!
The heating work was done by AR Plumbing and Heating. A small local(ish) company who really worked very hard in the warmest week in the UK EVER! They came initially to rip out some radiators and disconnect the boiler – but even took out the water tanks that same evening. Then they came back to install the new stuff – working around our builder friend Gareth. Highly recommended.
The loft work was done in half a day by Instaloft (they quoted fairly and discouraged extra work I didn't really need) – so I do recommend em.